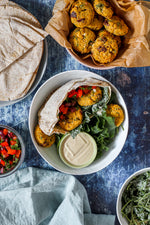 These Mediterranean chickpea pitas with tahini kale Caesar salad and olive herb salsa are fun, vibrant, and satisfying. If you thought you weren't a big kale fan, you just might become a convert once you taste the tahini kale Caesar salad! Thanks for the inspo Upbeet Kitchen

Mediterranean Chickpea Pitas with Tahini Kale Caesar Salad and Olive Herb Salsa
Serves 4
Mediterranean Chickpea Patties

-2 cups cooked chickpeas
-1 large egg, lightly beaten
-1/2 cup crumbled feta cheese
-1/4 cup oil-packed sun-dried tomatoes, finely chopped (drained before measuring)
-1/4 cup chickpea flour
-2 garlic cloves, minced
-1/2 cup basil or parsley, finely chopped
-1/4 teaspoon sea salt
-Freshly ground black pepper, to taste
Tahini Kale Caesar Salad
-1/4 cup water
-1/4 cup + 2 tablespoons tahini
-Zest of 1 lemon 
-1/4 cup freshly squeezed lemon juice
-1 tablespoon extra-virgin olive oil 
-1 garlic clove
-1/4 cup grated pecorino cheese, or 2 tablespoons nutritional yeast
-1 tablespoon capers
-1 teaspoon Worcestershire sauce
-1 teaspoon Dijon mustard
-1/4 teaspoon sea salt
-Freshly ground black pepper, to taste
-5 packed cups chopped kale (may be a combination of mature kale and baby kale)
-4 pitas
Olive Red Pepper Herb Salsa

-1/2 cup pitted Kalamata olives, sliced
-1 red bell pepper, finely chopped 
-1 cup fresh parsley or basil, finely chopped
-2 green onions, thinly sliced 
-1 tablespoon red wine vinegar
-Pinch of sea salt
Instructions
Make the chickpea patties:

Preheat the oven to 375 F and line a large, rimmed baking sheet with parchment paper. Place the chickpeas in a food processor fitted with the 'S' blade and pulse until crumbly. Transfer into a large bowl. Add the egg, feta, sun-dried tomatoes, chickpea flour, garlic, herbs, salt, and pepper. Stir well to combine. Form into 12 small patties and place on the prepared baking sheet. Bake for 25-30 minutes, until lightly browned and firm to the touch.  

Make the tahini kale Caesar salad:

Add the water, tahini, lemon zest and juice, olive oil, garlic, pecorino, capers, Worcestershire sauce, Dijon, salt, and pepper to a blender or food processor and blend/process until smooth. Place the chopped kale in a large bowl and pour the dressing over top. Massage the dressing into the kale. 

Make the olive salsa:

Combine the olives, red pepper, herbs, green onion, red wine vinegar, and salt in a bowl and stir to combine. 

Assemble:

Stuff a pita half or simply top a whole pita with some salad, a couple of chickpea patties, and some salsa. Eat and enjoy!