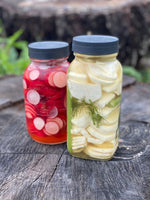 Quick pickles for the win!⁠
⁠
There are few preservation methods that are easier than a radish quick pickle. If you can slice and stick something in a jar you are good to go! Once they are ready you can use them anywhere you like - sandwiches, salads, on tacos, chopped up in tuna or potato salad - the possibilities are endless!⁠
Pickled Radishes
1 bunch radishes
¾ cup white wine vinegar or apple cider vinegar
¾ cup water
3 tablespoons honey or maple syrup
2 teaspoons salt
1 teaspoon red pepper flakes (optional)
½ teaspoon whole mustard seeds (optional)
Optional add-ins: garlic cloves, black peppercorns, fennel seeds, coriander seeds, fresh dill
    -
Top and tail the radishes and slice them into very thin rounds. Pack the rounds into a pint-sized canning jar. Top with any of the spices and herbs you will be using.

To prepare the brine: In a small saucepan, combine the vinegar, water, honey or maple syrup and salt. Bring the mixture to a boil, stirring occasionally, then pour the mixture over the radishes.
Seal the jar and place in the fridge to cool and pickle. They will be ready to eat anywhere from 1-24 hours later. They will keep in the fridge for a few months. They ARE NOT shelf stable, only store them in the fridge.
Warning - the smell when you open the jar can be unpleasant - don't let it put you off, the pickles taste great!