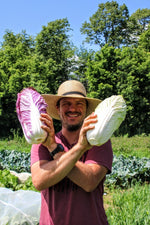 Cabbage, like beets, is a vegetable that many people have negative childhood memories of eating, putting them off it for life. If this sounds like you, we invite you to give it another try using one of our favourite ways to prepare it.
A few of Jolianne's favourite ways to prepare it include simply steaming chopped cabbage and topping it with a drizzle of apple cider vinegar - it's one of Milo's favourite ways to eat it, believe it or not!
Another option is to slice up a head of cabbage and fry it along with ground meat and a drizzle of tamari or soy sauce as it cooks. One pan wonder!
Or why not try this cabbage stif-fry recipe - a great summer option to beat the heat!
Cabbage Stir-Fry with Miso Peanut Sauce
1 head chinese cabbage, chopped
1 bunch green onions, chopped
1 package tofu or chicken
Rice or noodles to serve
Miso Peanut Sauce
1/4 cup peanut butter (unsweetened)
2 Tbsp miso paste
2 Tbsp apple cider vinegar
1 Tbsp maple syrup (to taste)
1 tsp garlic powder
1 tsp ground ginger
1/2 cup warm water
    -
If using tofu prepare as Baked Crispy Tofu from Minimalist Baker. If using chicken, slice and fry in pan prior to adding veggies.
Wash & chop cabbage and green onions.
Heat a large pan over high heat and add olive oil. Add veggies and cook for about 5 minutes. Add cooked chicken if using, if using tofu reserve until the end.
Mix miso-peanut sauce ingredients together in a small bowl. Adjust to taste, mix until smooth.
Remove pan from heat and pour over miso-peanut sauce. Mix well. Serve over rice or noodles and top with chopped fresh cilantro or herb of choice, and tofu if using.
All ingredients marked in bold are available in the Farm Store.