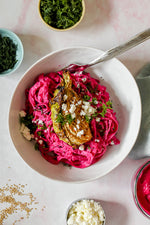 This Beet Pesto Pasta with Miso Butter Charred Cabbage from Up Beet Kitchen sounds fancy, but it's really quite simple to prepare, and so flavourful! Cabbage wedges are roasted to perfection with miso butter and served atop a bright pink beet pesto pasta that could very well become a summer staple. It's a great way to use beets and cabbage from the Farm Store. 
Serves 6. 
Miso Butter Charred Cabbage
-1 medium/large head of green cabbage, sliced into 1-inch wedges
-2 tablespoons salted butter
-1 tablespoon dark miso paste
-1 tablespoon maple syrup
-Pinch each fine sea salt and freshly ground black pepper
-Sesame seeds and red pepper flakes, for garnish
Beet Pesto

-1/2 cup raw almonds
-2 medium garlic cloves
-1 ½ cups peeled, diced cooked beets (see note)
-1/4 cup freshly squeezed lemon juice, or to your taste
-1/4 cup extra virgin olive oil
-2 tablespoons red wine vinegar
-1/2 teaspoon sea salt, plus more to taste
-Freshly ground black pepper, to taste
-1/4 teaspoon red pepper flakes
-1/4 cup water, if needed to thin 
-1 pound (454 grams) pasta
For serving:

-Crumbled feta or grated pecorino
-Minced herbs
Instructions:

Make the miso butter charred cabbage:

Preheat the oven to 400 degrees F and line a large rimmed baking sheet with parchment paper. Arrange the cabbage wedges on the baking sheet, leaving a bit of space in between each. 

Melt the butter in a small saucepan over low heat. Once melted, whisk in the miso and maple syrup. Brush half of the maple miso butter over the sides of the cabbage wedges that are facing up. Roast for 20 minutes. Remove from the oven and carefully flip each cabbage wedge over. Brush the remaining miso butter over top. Roast for 20 more minutes. (In the final five minutes, I recommend transferring the cabbage into a cast iron skillet and returning it to the oven so that it really chars nicely.)

While the cabbage is in the oven, make the beet pesto. Add the almonds and garlic to a food processor fitted with the 'S' blade and grind into a coarse meal. Add the cooked beets, lemon juice, olive oil, red wine vinegar, salt, pepper, and red pepper flakes. Blend until very smooth, adding up to ¼ cup of water to thin. Taste and season with additional salt, lemon, or vinegar, if desired. 

Cook the pasta according to the directions on the package. Drain and reserve 1 cup of the cooking water. 

Add the pesto to the pasta, along with ½ cup of the reserved cooking water. Give it a good stir and add additional pasta cooking water, if desired. 

Top each serving of beet pesto pasta with a charred cabbage wedge, feta, and herbs, and enjoy! 
Note:
I recommend using steamed beets in the pesto. To steam the beets, peel and dice them into ½-inch cubes. Steam for 15-20 minutes, or until fork tender.