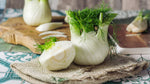 Who wants to spend all day in the kitchen? Not us! This one pan wonder is a great way to enjoy Farm Fresh veggies, while also not stressing about what's for dinner!

Roasted Chicken Thighs with Fennel and Lemon
2 pounds bone-in, skin on chicken thighs (4 to 6)
2 small fennel* bulbs
4 large garlic cloves or 1 bunch green onions*
1 lemon
2T oil
2T dry white wine or lemon juice
1T salt, black pepper
    -
Trim the stalks and fronds off the fennel bulb.  Cut the bulbs in quarters through the root. Cut each quarter into 1' thick slices.  Add to a bowl along with the chicken, add 1 T of minced fennel fronds (frilly leaves).
Mince garlic or chop green onions in 3 pieces. Grate the zest of the lemon, juice it and add all to the bowl. Add oil, white wine, salt, pepper.
Toss well, and transfer all to a baking sheet. Place the chicken pieces closely together in the center with the fennel and green onions around the sides.
Roast until internal chicken temperature is 160F, about 30 min @425F
Take the pan out, cover with foil or with another pan on top, rest for 10 min. Serve over ice or with roasted potatoes and roasted beets.