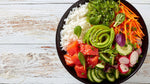 Poke bowl? What's a poke bowl? It's a traditional Hawaiian dish - a selection of raw, marinated fish, served over rice with crunchy veggies and a flavourful sauce. Think deconstructed sushi. It is infinately customisable, so use our recipe as a reference and then go crazy customising to your heart's (and tummy's) content!
Farm Fresh Poke Bowl
Fish (or tofu)
2T soy sauce
2t toasted sesame oil
2t rice vinegar
¾ lb fish of choice, skinless & diced
2t black sesame seeds
    -
Combine the soy sauce, sesame oil, and vinegar. Add the fish/tofu and sesame seeds. Let marinate for 15 minutes. Leave raw if you'd like and your fish selection is safe to eat raw, or grill if you perfer

Sauce
½ C fresh basil leaves
½ C kimchi
½ C tahini
3 T tamari
2 T rice vinegar or apple cider vinegar
½ C oilve oil
1 T maple syrup
1 T sesame Oil (toasted or raw)
1 lime & 1 lemon, juiced
    -
Blend all sauce ingredients in a blender until smooth.
Bowl
3 C cooked rice or grain of your choice
1 ½ C black beans
2 Lebanese cucumbers, thinly sliced
4 radishes, finely julienned
1 avocado, diced
¼ C cilantro
    -
Add rice or grain to bowls. Top with fish/tofu, vegetables, and cilantro. Serve with the sauce on the side and lime wedges, if desired.