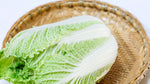 This stir-fried napa cabbage dish comes together quickly and is great served over rice, or as a tasty side dish.
Hot & Sour Napa Cabbage
1 T vegetable oil
2 t toasted sesame oil
2 whole dried chile thinly sliced
1 clove garlic, minced
1/2 t minced fresh ginger
1 head napa cabbage, leaves cut into 1-inch-thick slices
3 T Chinese black vinegar or balsamic vinegar
3 T low-sodium soy sauce
1/2 t sugar
2 green onions, green parts thinly sliced (2 T), for garnish
    -
Heat vegetable oil and sesame oil in large skillet or wok over medium-high heat. Add chiles, garlic, and ginger, and stir-fry 1 minute. Add cabbage, and cook 30 seconds. Stir in vinegar, soy sauce, and sugar, and cook 2 to 3 minutes, or until cabbage is crisp-tender. Season with salt, if desired, and give one last shake or stir. Serve garnished with green onions.