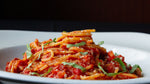 Everyone needs a good pasta sauce recipe in their back pocket, and this one is it! Rich and saucy, filled with veggies and lentils, and delicious atop any pasta you choose.
Rich and Saucy Bolognese
2 t olive oil
1 each: carrot, onion, celery rib, small eggplant; chopped
4 cloves garlic, minced
¾ c red wine or vegetable stock
½ c dried green lentils
¼ c dried red lentils
3 T tomato paste
14 oz crushed tomatoes, fresh or canned
½ t each: dried oregano, thyme, rosemary
⅛ t smoked paprika
3 T nutritional yeast
2 T soy sauce or tamari
1 T maple syrup or coconut sugar
1 c vegetable stock or water
1 t salt
½ t black pepper
----                                             

Saute onion, carrot, and celery in olive oil over medium heat in a large saute pan for 6-7 minutes or until onion is translucent. 
Add garlic and eggplant and cook for 3-4 more minutes. 
If using red wine, add now and wait until it is absorbed/evaporated. If using vegetable stock, add it now with the rest of the ingredients. 
Stir well and bring to a simmer. Turn to low heat and cook for 40-50 minutes or until lentils are tender. Stir occasionally and add water or seasoning as needed!

Recipe courtesy of: Vegan Comfort Cooking by Melanie McDonald