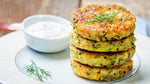 In a matter of minutes you can whip up these veggie filled latkes and have a delicious and nutritious main or side dish that everyone at the table will love! This recipe is infinitely customizable changing up the veg or herb depending on what's available in your kitchen throughout the season (think potato & rosemary, zucchini & oregano, squash & thyme, or parsnip & savoury).
Carrot, Feta & Dill Latkes
3 C carrot, shredded
1 garlic clove, minced
150 g feta or goats cheese
Pinch of salt and pepper
Fresh dill, chopped
2 eggs, beaten
¼ C flour or matzo meal
Oil, for frying
----
Mix together the carrots, garlic, crumbled feta, pepper, salt, and dill. Fold in the eggs, distributing them evenly, before sprinkling and folding in the flour. 
Heat a large frying pan and drizzle in oil to coat the pan. Gently dollop golf-ball sized handfuls of mixture into the pan. Adjust the mixture with more egg or flour if necessary. Press to flatten and cook until golden brown, flipping to crisp each side.

Serve with greek yogurt and fresh dill.