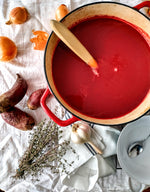 Not only are beets beauiful, they are a nutritional powerhouse, loaded with vitamins, nutrients, and antioxidants. Filled with earthy, rich flavour they are surprisingly versatile and can be enjoyed in so many different ways - raw in a salad, sweetly roasted in pasta, and as the base for a soup like this one.
Roasted Garlic Beet Soup with Mustard-Spiked Yogurt
2 ¼ lb beets
1 head garlic
1 T + ½ t coconut oil
3 leeks
1 t salt
2 t dried thyme
3 bay leaves
4 C vegetable broth
1 T lemon juice
½ t black pepper
½ C yogurt
1 t dijon
----
Wrap each beet in foil and place on a baking sheet. Slice the garlic clove just below the stem to reveal the cloves. Spread ½ t coconut oil on top and wrap with foil. Place on a baking sheet with the beets and roast for about 45 minutes.
Remove dark green tops of the leeks and slice the white and light-green part in half, rinse, and then slice crosswise into chunks.
Melt 1 T coconut oil over medium heat in a large stockpot. Add the leeks and a few pinches of salt and stir. Add the thyme and bay leaves and cook until leeks are softened, 5 mins.
When beets are cool enough to handle, slip off their skins, cut them into chunks and add to the pot with the leeks. Add the broth, bring to a boil, reduce heat to low, and simmer until the leeks are completely soft, 3-4 minutes. 
Remove foil from garlic and squeeze bulb from the bottom to extract cloves directly into a blender. Discard the bay leaves from the pot and pour the contents and lemon juice into the blender. Blend until smooth and season with salt and pepper. 
Stir yogurt and mustard together, swirl into each bowl of soup, enjoy!
----
Recipe via, Naturally Nourished by Sarah Britton