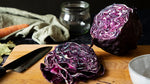 Stir fry doesn't have to be filled with light, spring vegetables - hearty winter storage veggies are just as delicious enveloped in warm & tangy asian flavours!
Stir-Fried Tofu, Red Cabbage and Winter Squash
2 T soy sauce
1 T rice wine vinegar
2 t each honey, dark sesame oil, cornstarch
2 T oil
½ pound firm tofu, cut in 1 x 2-inch dominoes
2 t minced fresh ginger
2 garlic cloves, minced
¾ pound butternut squash (about ½ a squash), cut in 1/2-inch dice
Salt to taste
1 ½ pounds red cabbage (about 6 cups, cored and coarsely chopped
Rice, bulgur or buckwheat noodles for serving
-
In a small bowl, whisk together 1 tablespoon of the soy sauce, the rice wine vinegar, honey, sesame oil and cornstarch. Set aside.
Heat 1 tablespoon of the oil over medium-high heat. Add tofu and stir fry for about 3 minutes or until light brown. Remove and season with soy sauce.
Stir fry butternut squash in remaining oil for 5-8 mins or until lightly browned. Add salt, ginger, and garlic. Stir fry for 30 secs more. Add the cabbage. Stir fry 6 minutes more or until squash is tender and cabbage is tender-crisp. If the pan begins to stick, add around ¼ cup of water.
Place tofu back in the pan with the veg. Add the sweet and sour mixture to the vegetables, stir until glazed and serve with grains or noodles.
cooking.nytimes.com/recipes/1013030-stir-fried-tofu-red-cabbage-and-winter-squash