Tags:

Cabbage, carrot, chinese cabbage, daikon, garlic, ginger, kimchi, lactofermentation, Napa Cabbage, recipe, red cabbage, summer cabbage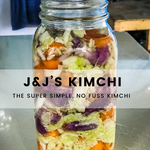 We ain't got no time for multi-step Kimchi! So here's our super simple, ultra quick, get-your-but-back-in-the-field Kimchi style recipe. 😋 Makes approximately 2 mason jars.Ingredients:3 lbs chinese cabbage and cabbage5 TBSP salt1 lb carrots julienned or sliced thin1lb daikon julienned or sliced thin1 bunch green onions sliced into 1inch pieces 1 head of garlic, crushed3 inch piece of ginger, grated1 head of garlic, grated Directions:1. Chop vegetables. 2. Mix in 3 tbsp course salt per 5 lbs veg.3. Pack veggies in the jars.4. The next day, pack it a little more. Add a little water if the veg is not...
---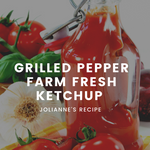 Grilled Pepper Farm Fresh Ketchup As promised, here it is, Jolianne and Jonathan's Grilled Pepper Ketchup recipe: - 4L basket of grilled red peppers- 4L basket of fresh tomatoes (any size or variety) boiled down to a paste- 1/3 cup Apple cider vinegar - 2 TBSP honey or molasses (or both depending how sweet you'd like it)- 2 TBSP of salt- 1/2 to 1 tsp of cinnamon (to taste)- pinch of cloves & smoked paprika (to taste)  *watch the video on Instagram for instructions: HERE  ** keep in mind there are tons of variations you can make of this ketchup -...
---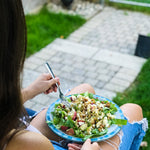 Inspired Fall Eating: Apple🍎& Candy-Spiced Walnut Salad 🥗 A warm fall evening, @ottawafarmfresh romaine lettuce and green onions and fresh picked apples from @orleansfreshfruit inspired this salad! Ingredients:3 apples cored & cut in bit size pieces1 romaine lettuce head2 green onionsHand full of crumbled feta cheese1/2 cup walnuts2TBSP maple syrupPinch of cayenne pepper Dressing:1/3 cup olive oil1/4 cup @theunrefinedolive expresso balsamic vinegar5 TBSP Apple cider vinegar3 TBSP maple syrup 2 chopped green onions1 small garlic clove1tsp Oregano Salt & pepperDirections:1. Candy the walnuts. Add a little oil to coat your medium heat pan and heat the walnuts. When walnuts begin...