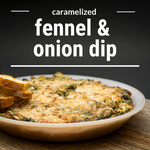 Caramelized Fennel & Green Onion hot dip
Move over artichoke dip! Caramelized Fennel and Green Onion Hot dip is here. ⁠Put our fresh organic fennel and green onions to work at your Thanksgiving celebrations this weekend (or maybe just movie night!). ⁠⁠
Ingredients⁠
1 Tbsp olive oil⁠ 1 Tbsp butter ⁠1 fennel bulb, thinly sliced⁠ 4 green onions thinly sliced⁠ 1 cup dry white wine (optional)⁠ 2 cups shredded gruyere cheese⁠ 1/2 cup ricotta cheese⁠ 1/4 tsp salt⁠ 1/8 tsp black pepper⁠ 1/4 cup freshly grated Parmigiano Reggiano cheese⁠⁠
Instructions⁠
1. Melt butter and olive oil in a large pan. Add thinly sliced fennel and green onions. Toss to coat with a pinch of salt and pepper.⁠
2. Sauté fennel and onions. After 5 minutes, add a splash of wine, allowing the wine to absorb before adding more. Continue this until fennel and onions are thoroughly caramelized, with a rich golden brown colour. Between 10 and 15 minutes. ⁠
3. Preheat oven to 400 degrees. Grate the gruyere and Parmigiano. ⁠Mix gruyere, ricotta, salt, and pepper in a medium bowl. Reserve Parmigiano.
4. Add caramelized fennel and onion. Toss thoroughly to combine.⁠Transfer to an 8 inch oven-safe baking dish. Top with Parmigiano cheese and pepper.⁠