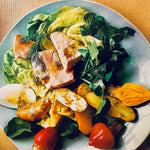 Winter Basket #1
Pick-up at the Farm Store TODAY! Home delivery on Saturday.
As we harvest, wash and sort veggies from the field and cold room for our first CSA Winter Bounty Basket this week, we can't help but day dream of what you're going to be cooking with these delicous ingredients!
So, for all of you who signed up for our Winter Bounty CSA here is a recipe to get you drooling...
Steamed Beet, Roasted Potato and Salmon Salad with Dill Dressing
Thanks to an old Food & Wine magazine for this week's inspiring recipe and photo:
Ingredients:
8 beets, peeled and steamed
8 potatoes, cut into bite size pieces and baked
1 large head of lettuce (or bag of mixed greens)
4 salmon filets, salted & peppered
4 eggs, boiled, peeled and cut in quarters
Dressing:
1/4 cup cider vinegar
1/2 cup olive oil
¼ tsp sea salt and ground black pepper
1/8 cup dijon mustard
3 tbsp honey
1/4 cup chopped dill
2 chopped green onions
Preparation:
1. Steam beets until they are fork tender. Preheat oven to 375°F. Place potatoes pieces on baking sheets. Drizzle with oil and sprinkle with salt and pepper. Toss to coat. Bake until softened and brown on edges, about 30 minutes.
2. Put eggs in a pot with water to hard boil for 10 minutes. Rinse and chop lettuce and spread out on 4 plates. Remove egg shells when ready and cut eggs in quarters.
2. Meanwhile, in a small blender combine all dressing ingredients and add salt and pepper. Blend until smooth. Drizzle over salmon filets and BBQ grill until cook and still tender.
3. Arrange baked potatoes, eggs, steamed beets and a salmon filet on each plates bed of lettuce. Drizzle with dressing. Enjoy!
*Leave out the salmon filet and egg for vegan variation.