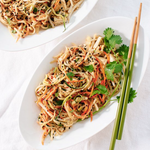 Daikon?! What do I do with that!
First off daikon is a crunchy, winter radish that becomes sweeter if you peel it - which is Jolianne's advice to you, if you plan to eat it raw. Daikon is delicious in kimchi or a stir fry, lightly steamed with olive oil, salt or lemon juice for flavour or eaten raw. All you have to do is slice the daikon radish, dip it in dressing or peanut butter or add shredded raw daikon to your salad. 
Daikon Noodle Pad Thai
A light, healthy take on pad Thai that uses raw vegetable noodles instead of rice noodles! Daikon, zucchini and carrot ribbons tossed in savory peanut sauce makes this salad-y dish irresistible. This meal is gluten free and easily made vegan.
Thanks to Cookie & Kate for this week's recipe (adapted and) inspired by her Healthy No Noodle Pad Thai and photo:
INGREDIENTS
¾ pound daikon radish, peeled and spiralized
4 medium carrots, peeled and spiralized
½ pound zucchini, spiralized
½ pound bean sprouts
4 green onions, finely sliced
12 to 14 ounces extra-firm tofu, drained and pressed
1 small bunch cilantro leaves, chopped
2 tablespoons sesame seeds
4 small wedges of lime, for serving
Peanut sauce
½ cup peanut butter or almond butter
¼ cup lime juice
2 tablespoons tamari
2 tablespoons honey
2 teaspoons grated fresh ginger
1 pinch red pepper flakes
About 3 tablespoons water, to thin
INSTRUCTIONS
Prepare the veggie noodles and transfer to a large serving bowl. Add the bean sprouts, onions, chopped cilantro and sesame seeds to the bowl.
Slice the tofu into 1-inch wide squares of tofu. Add olive to pan - enough to cover bottom of pan and pan-fry tofu cubes on each side, using a fork to gently rotate cubes to brown on all sides. Transfer the fried tofu to the serving bowl.
Make the sauce: In a small bowl, whisk together all of the sauce ingredients until the sauce is smooth and creamy. Taste and adjust seasoning if necessary—the sauce should taste very bold at this point.
If you will not be serving all 4 portions immediately, portion off the amounts of vegetable/tofu mixture you need for now. Drizzle in enough dressing to coat the portioned amount. Use your hands to gently toss the mixture until every single strand is coating in dressing. Serve pad Thai with a wedge of lime and a sprinkle of extra chopped cilantro and sesame seeds. Store leftover vegetable/tofu mixture separately from the dressing and dress just before serving.