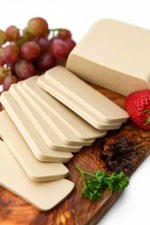 Vegan Smoked Gouda made with coconut milk might just be the most epic dairy-free cheese ever! Its texture is so creamy and its flavour has just the right amount of smokiness. You won't believe how mind-blowingly good it is until you give it a try.
---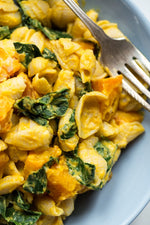 Vegan Smoky Butternut Squash Sauce with Pasta & Greens 1/4 cup raw cashews, soaked 1 (3.5-4 pound) butternut squash, peeled, seeded, and diced (or two (450g) packages chopped squash) 3/4 cup water 2 garlic cloves 2 tablespoons nutritional yeast (optional, but recommended) 1 tablespoon fresh lemon juice 1/2 teaspoon onion powder 1/2 teaspoon smoked paprika 1/4 teaspoon chili powder 1 teaspoon fine grain sea salt, or to taste 1/8 teaspoon liquid smoke hot sauce, to taste 1 (450g) package mini shell or macaroni pasta (use gluten-free, if desired) roasted broccoli or sauteed kale leaves, to stir into pasta---Add cashews in...
---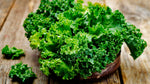 Kale + salad + pasta = a winning recipe! We love kale, and when you whip it into a casear inspired pasta salad, we love it even more! This particular caesar dressing is vegan, but any creamy, cheesy dressing would be delicious!