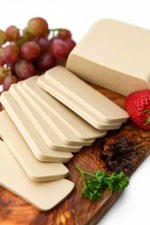 Vegan Smoked Gouda made with coconut milk might just be the most epic dairy-free cheese ever! Its texture is so creamy and its flavour has just the right amount of smokiness. You won't believe how mind-blowingly good it is until you give it a try.
Vegan Smoked Gouda
1 13. 5 oz can coconut milk full fat
1/2 C hot water
1 1/4 t salt
1 T nutritional yeast
2 T agar agar powder
1/4 t garlic powder
1-2 t liquid smoke (or 1 tsp smoked paprika)
---
Spray a glass bowl or container with oil to prevent mould from sticking.

Add coconut milk to the saucepan, pour ½C of hot water into the can to melt the remaining coconut & add the water to the pan.

Add the rest of the ingredients to the pan & stir.

Heat to medium & stir often until boiling. Turn down heat until just barely simmering & stir constantly for 6 minutes until it is very smooth. Pour into moulds.

Let cool for 15 min with lid off, then cover & move to the fridge for at least 2 hours to set.

photo and recipe from
thehiddenveggies.com/vegan-smoked-gouda/