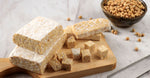 This has become our new staple in the fridge. Every week we either take 2 packages of tempeh or tofu and prepare it for later. This way, it is very convenient and easy to eat protein rich meals, even on a busy day at lunch time. The liquid smoke adds an amazing flavor, I often add green onions to cook with.

I then use it to add to my salad, (I specifically love mixing tofu with tuna and tempeh with hard boiled eggs, and I usually mix cold roasted cherry tomatoes in as well, along cold steamed broccoli or massaged kale or spiralized cucumber or simply leafy greens), to pasta dish, to tacos, wraps, or as as is as a snack.


Smoked Tofu/Tempeh
2 blocks of tempeh or tofu (press the tofu for 10 min)
1 tsp liquid smoke*
1 tbs fresh ginger
3 tbs tamari
3 tbs oil
1 tbs paprika or chili powder

Make little pieces with your hands the size of the tip of your finger (kind of shredding it with your hands).

Add the marinade, let sit for 10 min or more. (These are the approximate proportions I use, feel free to make more to make the tempeh/tofu  more flavourful.)
Use a skillet on medium high, put in the tempeh/tofu bits and leave undisturbed for a few minutes, then stir, and leave undisturbed again. The goal is to get them to be crispy. Let cool before adding to salad.