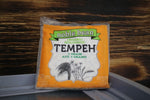 Farm fresh recipe. An inspiration from having some already cooked and crispy tempeh in the fridge. I love making a big batch of tempeh and then add it to my salad, and the cucumber pair well with the tempeh. The liquid smoke adds an amazing flavor. Find the tempeh, liquid smoke and Smoky Chipotle Dressing in the farm store.
Tempeh Cucumber Salad
2 blocks of tempeh*
1 tsp liquid smoke*
1 tbs fresh ginger
3 tbs tamari
3 tbs oil
1 tbs paprika or chili powder
5 cucumbers
1 pint cherry tomatoes
1 bunch of fresh herbs (flat parsley, cilantro or basil), minced
2 stems of fresh mint, minced
4 green onions, minced
Olive oil, salt, pepper or the Mother Raw smoky chipotle dressing*
Tempeh
Make little pieces with your hands the size of the tip of your finger (kind of shredding it with your hands).
Add the marinade, let sit for 10 min or more. (These are the approximate proportions I use, feel free to make more to make the tempeh more flavorful.)
Use a skillet on medium high, put in the tempeh bits and leave undisturbed for a few minutes, then stir, and leave undisturbed again. The goal is to get them to be crispy. Let cool before adding to the salad.
Salad
Spiralize (thin spaghetti attachment) or use the mandoline to cut the cucumber thinly. And just add all the rest of the ingredients.