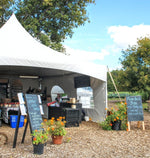 Farm Store Manager & Ambassadors


WANTED:  Caring, passionate foodie ninja!
Do you love organic food? Do you love people? Are you passionate about cooking, eating, and gardening? Would you love to put your skills to work for the good of the planet and the local community?
Well, you just found your dream job!
Here at Ottawa Farm Fresh, our tight knit team of world class farmers work together to grow and sell top quality organic food...  all this literally minutes from downtown Ottawa.
We're a team on an epic mission: To inspire and connect people to food, nature, and the realness of the human experience! 
Our vision is that the farm doesn't just feed the body… it feeds the mind, spirit, and soul! Shopping at the farm is a breath of fresh air… a revitalising and re-energizing step away from the busyness of urban life. 
As such, the Farm Store Manager will be the ambassador of this mission; working closely with Jolianne and Jonathan to offer our clients a deeply grounding, inspiring, and authentic farm fresh experience!
If you've ever dreamed about what it would be like to be a high-performance, mission driven team, well, it's time to reach out now.
Warning: This is no regular retail job! This farmer-style retail…. where you are constantly on your feet, moving around, greeting people, attuning to their needs and interests… keeping the display stocked and helping people with self check out… all at once!  :)  You need to be sharp and alert.
Responsibilites:
Creating and nurturing an amazing customer experience.

Welcoming clients and inspiring them with amazing recipes and cool tips for storing and using veggies.

Sharing farm anecdotes with them, teaching people about where food comes from and reconnecting them with nature.

Inspiring people to connect with the food that feeds them and try new veggies and new recipes, 

Increasing sales via enthusiasm and passion for delicious foods.

Helping clients with the self checkout process.

Maintaining and restocking beautiful displays of top quality produce.

Opening and closing the farm store. 

Coordinating with other members of the team who will lend a hand to keep the store stocked during extra busy times. 
Required Superpowers:
Fun, enthusiastic, passionate personality.

The ability to multitask and wear many hats in a fast paced environment. 

Physical strength, endurance,  and the ability to lift 50 lbs safely. 

Shameless salesmanship!! Because you just know in your heart that sales is a way of being of service to our amazing clients!

Positive, HIGH VIBE energy, enthusiasm,  and a sense of humor!

Capacity to remain calm even when clients are waiting.

Dynamism and the ability to work in a startup environment (ie.. building the airplane as we fly it…) You need to be comfortable with change and

a certain degree of organized chaos

. 

Clear and concise communication style.  

A desire to pay attention to details and the ability to receive lots of precise feedback without taking it personally.

Fast, efficient, and ergonomic work ethic. 

Equanimity and adaptability to thrive in a rapidly evolving, dynamic work environment.  That means the ability to flex and flow with new ways of working and organising things on the endless quest for excellence.

Curiosity and a desire to learn and continuously improve work methods.  
And... Here are a few of the crunchy details
May to November, 30-40 hrs/week.

3-4 days per week (farm store is open Thursday to Saturday)

16-18$/hr starting wage (depending on skills and experience). 

Possibility of commission style bonuses for the right person

Includes a weekly basket of farm-fresh vegetables!
If you want to be a part of an efficient, fast-paced environment that will bring out your best, you may be exactly who we're looking for. 
To start the application process, send us a CV and a cover letter letting us know why this is the perfect fit for us both!
info@ottawafarmfresh.com