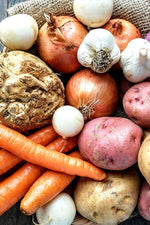 Have you found yourself arriving at the Winter CSA pick up, stepping up to the root vegetable station and feel completely confused by the selection on offer? Maybe you recognise some of the vegetables, but have no idea how to identify, nevermind eat, the rest. You're not alone! We've had a number of questions about some of the root vegetables on offer, so we thought we'd take some time to help you master the root vegetable medley and make the most of your Winter CSA basket.
That's one of the beauties of CSA - the opportunity to try new and unique vegetables that you've never heard of before!
​​​​​Carrots, potatoes & onions: These are probably the most identifiable of our winter root vegetables. These kitchen staples are so versatile and are mainstays of hearty winter cooking. Don't be fooled though. While they might look like any root veg you find at the grocery store, our organic carrots, onions, and potatoes taste like no others!
Daikon Radish: These hefty white and purple roots are one of the less well known vegetables in the medley. They are delicious, versatile, store well, and are beautiful to boot. Have you sliced a purple one open yet? They are breathtaking! Daikon is a staple in asian cuisine, and can be enjoyed either cooked or raw. If left raw they are lovely sliced, grated, or spiralized in salad, rice paper rolls, and kimchi, and cooked it is transformed into a soft and starchy veg similar to potato. One of our favourite ways to cook daikon is to spiralize it and use the 'noodles' in a pad thai like dish that's filled with a selection of seasonal Farm Fresh veggies!⁠
Beets: If you think of beets as only dark red, and often soaked in vinegar, you can be forgiven. Beets are one of our most misunderstood vegetables. If you haven't tried beets since childhood, you're missing out! Our beet bin is a riot of shapes, sizes, and colours, all beautifully hued under their unassuming coats. We have red and yellow globe beets, pinkish chioggia beets with candy cane striped centers, as well as long red cylindrical roots, all with slightly different flavours. Consider trying them raw grated in a sandwich or spiralized as part of a salad. Roasting beets increases their sweetness and are delicious as is, topping a salad, or pureed in a soup. This summer Allison from Up Beet Kitchen shared a wealth of unique recipes featuring beets, give some a try and you'll be a convert!
Celeriac: "What is that?!" It's a question we get pretty often when people are confronted with this alien looking globe. Celeriac, sometimes called celery root, is the root of a celery variety cultivated for its bulbous root. It has an earthy taste with a hint of celery flavour, and a texture similar to turnip or potato. It might look intimidating, but it's easy to prepare - just peel off the knobbly outer layer and you're ready to go. It's a really versatile vegetable, and can be eaten either raw or cooked. Treat it like a potato - roast, mash, french fry. It makes a delicious, creamy puree, either on its own or with white beans. Get the spiralizer out and make noodles to add to ramen soup or raw in salad, or make a classic french remoulade salad. Don't judge this veg by it's rough looking exterior, give it a try and it's sure to become a kitchen staple!
Hakurei Turnip:The snow white globes that we sometimes call snowdrop radishes are actually a turnip - Japanese salad turnip. They won't be around for too much longer so make sure to grab some soon if you want to give them a try. They are delicious eaten raw, but are also great quartered and roasted with a maple glaze. Another great option is to quick pickle them - it's a simple process and then you can enjoy them for months to come!
Parsnip: Don't be fooled, this isn't a white carrot (though those do exist). Parsnips are a tricky veg to grow but our friends at Ferme la Rosee have mastered it, and we're so grateful! Parsnip is generally eaten cooked, but it is possible to eat it raw as well. They are slightly sweet and make a great addition to a roasted veg medley, soup, or a mixed vegetable mash. Farmer Milo loves parsnip fries with miso and tahini dip - a fresh take on an old favourite!
Parsley Root: This week you'll find a new addition to our root veg selection - the parsley root! It looks like a parsnip but tastes like parsley! The root is quite common in Eastern Europe, but rarely seen here in North America. Eat this one raw or cooked, but either way peel it before using. It's great in salad and soups, or stir things up and add it to the pan with a Sunday roast!