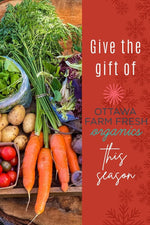 The holiday season is fast approaching, and if you are anything like us you have begun to think about gifts  that will show your affection for family and friends, while also supporting your values. That might sound like an awful lot to expect from a gift, but it is possible, and we are here to help!
This year give the gift of great local food - a gift that your nearest and dearest are sure to love, and one that also supports the local community. We have something for everyone on your list - the foodie, the eco warrior, the wellness lover, the home gardener, and anyone who loves finding something unique under the tree!
Nothing says I love you like a season of Farm Fresh vegetables.
Our seasonal CSA subscriptions are super simple, super flexible, and super delicious - a gift that will feed the heart and soul of your loved ones all summer long! Simply choose the size and number of weeks you'd like to gift, and we'll fill their kitchen with local, organic produce!
Not sure that a full season CSA is right for them? Give them a taste of Ottawa Farm Fresh with just a few weeks of CSA baskets. We can set it up any way you'd like, just get in touch!
When in doubt, a gift card is perfect - simple, thoughtful, flexible and always fun to use!
Gift cards are available in a variety of denominations and can be redeemed online or at the Farm Store, and can be used towards anything at the Farm. We all need a little piece of farm life, whether that is fresh organic vegetables, an excuse to drive to the Farm Store and get some fresh air, or an hour under the big sky on our yoga mat. This gift encourages all three.
Give the gift of delicious meals for months to come!
Any foodie on your list will love to receive a handmade, organically grown garlic braid - beautiful to look at and delicious to eat.