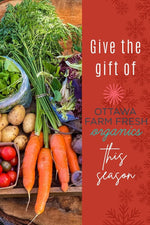 The holidays are a time to celebrate with those you love, not to feel stressed out by trying to find the perfect gift! Let us help you feel the spirit of the season, and leave that special festive anxiety out in the cold (where it belongs)!
Whether you choose to gift a full season of Farm Fresh goodness, or just a taste with one or more baskets to be used throughout the year, we know that every foodie on your list will love the gift of Ottawa Farm Fresh!

Your busy daughter-in-law: Coming to the Farm isn't just another chore. It's a breath of fresh air, a learning experience, and a chance to connect to the land and people that grow your food all rolled into one. Unlike the weekly trip to the grocery store, a weekly visit to the Farm is something to look forward to, and we guarantee it's a way to get the whole family loving veggies! Take one worry off her list by signing the family up for a medium Summer CSA and we'll keep them stocked with fresh organic veggies and weekly recipe ideas all season long.

That craft beer loving nephew: At first glance you might think that craft beer and organic veggies have little in common, but we couldn't disagree more! All of us small scale producers are working towards the same goal, building community connection through intentionally made food - whether that's craft beer, raw honey, local kombucha, or, like us, organic veggies! He might live in the heart of the city, but everyone can use a little bit of country in their life! With our mini basket he'll have everything he needs to become a local foodievore, and he'll love showing off his cooking skills with our specially curated recipes that make the most of the bounty.

Your eco-conscious sister: You love her to bits, but she is so hard to find a gift for. We guarantee she'll love a season of Farm Fresh veggies! Locally grown organic veggies grown using bio-intensive and regenerative farming practices, situated less than 15 minutes from the downtown core...what's not to like?! You'll probably find that with her veggie rich diet she'll need a bigger size than you'd expect - we'd suggest a small basket to keep her fridge well stocked with low-waste, low-carbon, organic veg.

The grandparents who don't need anything: They might not need anymore candles or trinkets, but they definitely need food! And not just any food, veggies that taste just like the ones they remember harvesting with their own grandparents decades ago. We regularly hear reminiscences from our older customers, telling us that our tomatoes remind them of the ones they savoured as children, or our carrots have the sweet crunch of those they enjoyed straight from the earth of their grandfather's garden. A small basket will give them all the flavour of their childhood, and as an added bonus they'll get to chat all things gardening and farming with Jonathan when they come to select their vegetables every week!

It's easy to find yourself overwhelmed by decisions at this time of year. With the gift of Ottawa Farm Fresh you can give more than a token of your affection. It truly is the gift that keeps on giving - to the wellness of loved ones, to the health of the planet, and to the vitality of the local community.