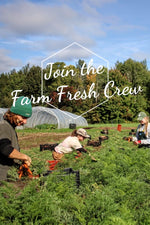 WANTED:  Passionate organic farmers to help us grow the most delicious veggies people have ever tasted! 
Are you wild about local organic food and farming? Does the sound of working hard outdoors, growing and harvesting mouthwatering, fresh, organic vegetables sound like a dream? Would you love to work on a farm but also want to enjoy the pleasures of the city? Do you love the satisfaction of a good day's work? Are you ready to take on some management responsibilities?
Then you may have stumbled upon the job opportunity of a lifetime. Here's why.
We're a fast-growing local organic vegetable, mushroom, and cut-flower farm right here in the Ottawa Greenbelt and we're looking for ambitious, like-minded, farmer superstars to add to our farm team. We are literally 12 minutes from downtown Ottawa.
Our mission is simple: To enrich people's lives by grounding our community in human wholeness through direct connection with organic food and nature. 
Our vision is to offer a wide range of wellness activities, workshops, and services… all this in addition to growing the most mind-blowing veggies you've ever tasted! 
Our strategy for getting there is to build an awe inspiring team of amazing people fully capable of running the farm without Jonathan and Jolianne's daily involvement in an operational capacity… it's a medium-term goal :)
If you've ever dreamed about what it would be like to be a part of a movement that will change the way our community eats, one delicious organic bite at a time, then reach out now.
Warning: we are an uber committed company. If you're just looking for any old job or don't relish hard work, this isn't right for you.
As part of the All-Star farm crew of 4-6 team members, you will be involved in all steps of the vegetable production process including:
Planting 

Weeding 

Harvesting, washing and packing the produce

Building, fixing, problem solving

Pruning and maintaining greenhouse crops

Delivery and errands
Depending on skills and interests, team members will be invited to specialize in certain aspects of the farm, and to eventually take on responsibility for that department.
Required Superpowers:
Physical strength, endurance, and grit to work in the hot sun, the cold rain, day after day, doing the gloriously repetitive work of growing food. (The ability to lift 50 lbs repetitively.)

Positive, HIGH VIBE energy, enthusiasm,  and a sense of humor!

Dynamism and the ability to work in a startup environment (ie.. building the airplane as we fly it…) You need to be comfortable with change and

a certain degree of organized chaos

.

Clear and concise communication style.

Fast, efficient, and ergonomic work ethic. 

Equanimity and adaptability to thrive in a rapidly evolving, dynamic work environment.  

Curiosity and a desire to learn and continuously improve work methods. 

The ability to receive and integrate detailed feedback. 
And... Here are a few of the crunchy details
May to November, 35-45 hrs/week. (Part time also available) 

December to January (1 or 2 part time positions possible).

$16-$18/hr starting wage (depending on skills and experience).

A weekly basket of farm-fresh vegetables!

This is a fully bilingual work environment (French & English) though the ability to speak french is not a prerequisite.
If you want to be a part of an efficient, fast-paced environment that will bring out your best, you may be exactly who we're looking for. To start the application process, send us a CV and a cover letter to info@ottawafarmfresh.com letting us know why this position is a perfect fit for you.
We'll be reaching out to interesting candidates with the next steps to get to know each other including a zoom interview and an on-farm working interview. 
----
Es-tu un de ceux, comme nous, qui adorent le travail de maraîcher, et qui en même temps, adorent habiter et profiter de la ville?
Tu aimerais aussi trouver un emploi qui mette tes compétences en action et tu es à la hauteur de prendre des responsabilités de gestion?
Et en plus, tu adores travailler dehors, bouger et te sentir satisfait après une journée de travail. (Tu es capable de faire des backflips tout en récoltant des choux?)
Oh.. boy! Que nous avons la job de rêve pour toi!!
Ottawa Farm Fresh est une entreprise start-up en pleine croissance, cultivant  légumes, champignons et fleurs coupées biologiques sur une terre en zone péri-urbaine. Nous sommes situés dans la Ceinture de Verdure » d'Ottawa, à peine 12 minutes du centre d'Ottawa.  Notre mission est de nourrir la communauté locale; autant au niveau du corps que du cœur et de l'esprit. Notre vision est de bâtir une équipe de super-farmers capable de pleinement opérer la ferme. (ça… c'est toi!)
Nous recherchons des personnes dynamiques et joyeuses pour se joindre à notre équipe de fermiers All-Star pour la saison 2022 et plus loin encore!

Nous sommes également à la recherche d'une personne pour assister avec l'administration, le marketing, les médias sociaux et la coordination des événements a la ferme (cours de yoga, workshops, bénévoles, etc). 

Présentez-vous et laissez-nous savoir pourquoi vous êtes la personne idéale pour ce poste clé dans notre équipe. Les candidats retenus seront contactés pour entamer les prochaines étapes incluant un entrevu, et une journée d'essai à la ferme. 

Au plaisir de travailler ensemble!
Jonathan, Jolianne, et Milo