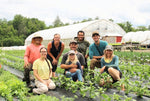 The vegetables in the Farm Store are just the final product.

They are the final link in a whole chain of dedicated humans who have contributed to growing, harvesting, washing, packing, transporting, distributing, and displaying the food you eat!

While Jonathan, Jolianne, and Milo might be the most familiar faces behind Ottawa Farm Fresh, every year we work with a dedicated team of folks who all contribute to making the Farm a success! We think it's important that the contributions of all of these amazing people are acknowledged, and that you know that the abundance that lands in the Farm Store has so many hands and hearts behind its production.

Let us introduce the 2023 Ottawa Farm Fresh team!
Scott is originally from Winnipeg, but has lived in Ottawa for the past 23 years with his family. Scott had the great fortune to work with the Inuit of Canada for over 30 years travelling across the Arctic conducting research and environmental work.

We met Scott early on in our Ottawa Farm Fresh adventure, when he stumbled on us while walking the dog. After a few years of volunteering with us, this year Scott has come on part-time. He loves learning the latest processes and techniques of growing good food while taking care of our soil. " I am motivated to work with such a great team and I strive to one day grow vegetables myself as good as those grown here at Ottawa Farm Fresh."

Scott's favourite vegetable (though he'll remind you that it's actually a fruit!) is the finger eggplant. "I like the shape of the leaves, the beautiful purple flower with yellow stamens, and the fruit, which is equally aesthetic and tasty. My favourite way to cook it is to cut the thin eggplant lengthwise on the barbecue with a brush of miso/wasabi sauce. Come get an eggplant and try it!"

Area of focus on the Farm: Head mycologist (Oyster Mushrooms Project Lead), Microgreens, Water Kefir Lead Brewer


Keon is originally from Niagara-On-The-Lake and has been around farming since his early teens. He is passionate about the potential of local food systems to fight climate change, loves sustainability, and is vegan.

Keon has a deep and profound passion to protect the environment, and appreciates being able to promote local food production through work here at the Farm.

Keon's favourite vegetable is zucchini (which is just starting to come into season!) It's super versatile, can be eaten raw or cooked, and can be used in a wide variety of cuisine and baking. "One of my personal favourites is a zucchini loaf." Here's a recipe for vegan zucchini bread that Keon recommends!

Areas of focus on the Farm: Pruning and trellising greenhouse crops, seeding and caring for seedlings, microgreens, pest control
Chris is our bookkeeper and helps keep everything organised! Chris (they/them) is originally from Ivory Coast, West Africa, lived in the US for 10 years, and then moved to Ottawa nine years ago. Chris's interests are powerlifting, embroidery, gardening, travelling, and spending time with their family. Chris loves working with Jonathan and the team, and says that it has been awesome to see the growth of Ottawa Farm Fresh over the past few years and being part of it has been a joy!

Favourite vegetable? Green beans!
Désirée is originally from Iroquois Falls, a small town in Northern Ontario, and you'll find her weekly in the Farm Store. She is a fertility and birth doula, and Xenapotheca is her line of artisan skin care and herbal wellness products, some of which are featured in the Farm Store!

What brought Désirée to Ottawa Farm Fresh? "One random day last year a desire to work on a farm was born within me, so I did a search online, found Ottawa Farm Fresh & fell in love! My motivations to work here include connecting with a like-minded community and to learn more about farming as I work towards owning a homesteading property where I'll grow herbs for my apothecary!"

Désirée's favourite vegetable is tomato, and has been since childhood - she eats them like apples! Try this Creamy Cucumber and Cherry Tomato Salad, a favourite of Desiree's after a long day in the Farm Store!
Amanda is the longest serving Ottawa Farm Fresh employee and has a long list of jobs here at the Farm: marketing, social media, author of the weekly newsletter, head photographer & videographer, events coordinator, graphic designer, website maintainer, and head email responder. Jonathan will tell you that the only reason that emails are responded to is because of Amanda!

Amanda was born on a family homestead in rural Ottawa, where gardening and food preservation were a regular part of the yearly cycle. After returning to Ottawa with her husband and daughter after more than a decade living in Europe, her passion for local, sustainable food production grew, which is how she stumbled upon the Farm. "I love that here at Ottawa Farm Fresh I've been able to put my various skills to use to promote food security and sustainability, even if I don't personally have my hands in the soil." She appreciates the opportunities that Jonathan and Jolianne have given her to put her eclectic background to good use!

Favourite vegetable? "I love an Ottawa Farm Fresh cucumber! They are so fresh and crunchy and when they are in season I eat them everyday! They also make great pickles that the whole family enjoys all year round."
Carlos is an Agricultural Engineer from Puebla, Mexico. Motivated by a love of learning and a desire to start his own farm in Mexico, Carlos has been working with us for two years, gradually taking on more and more responsibilities at the Farm.

Carlos has enjoyed learning all aspects of market gardening while here in Ottawa, and then applying them to his nascent market garden project in Mexico. The thing that has surprised Carlos the most since coming to Canada is the extent to which community and community building is such a key element of Canadian culture. He specifically named volunteering, community groups, the CSA, and the degree to which our client really feel like this is 'their farm' as specific examples of this.

When not farming you'll find Carlos writing music, exploring Ottawa by bike, and experimenting and developing processes for on-farm production of bio-fertilizers and bio-stimulants (an important area of development for small scale mexican farmers as access to high nutrient organic fertilisers is much more challenging and less prevalent than in Canada.)

Fun fact: Carlos taught himself English as a teenager by learning the entire Beatles repertoire, looking up the meaning of lyrics in the dictionary as he went!

Areas of focus on the Farm: Direct seeding, Flame weeding, fertilization, tractor and rototiller work.
Thomas is an Agricultural Engineer with a passion for urban community gardens, hailing from Jalisco, Mexico. Motivated by a desire for professional opportunity and economic improvement, as well as a desire to learn about organic farming in other climates, Thomas has been working here since April. The thing he loves most about working here is being the main veggie washing person, which is a key quality control step of the process. Thomas takes pride in making sure that the clients get the very best version of what we grow. Thomas is a passionate Christian and was thrilled to find a great Jamaican church nearby where he has been welcomed with open arms.

The thing that has amazed Thomas the most since coming to Canada is that we actually do everything 100% organically on the farm and WOW!! What great results.

Areas of focus on the Farm: Irrigation, Transplanting, Post-harvest Veg Washing, Equipment maintenance and repair.
Mario is Jolianne's dad and has been involved part time in the Farm since the beginning, which just happened to coincide with his retirement. Mario has a background in teaching electronics and computer, and is mechanically inclined. His building and mechanical skills have been put to good use on the Farm, developing lots of special projects, like salad bubblers and spinners, veg bathtubs, shelves, tomato carts, and so many more! One of Mario's favourite projecst was developing an electric two wheels tractor named "EL-Ox".

Mario's other passions include music (guitar, violin, singing with his wife, Mirelle), computers, motorcycles, and fixing and building all types of things.

Areas of focus on the Farm: Head Builder, Inventor and general Repairs and Maintenance
Born and raised in the east end of Montreal, Jolianne's passion for farming is motivated by a love of good food and by the life style and freedom afforded by entrepreneurship (most of the time). Jolianne's other interests include painting, piano, dance, yoga, biking, cooking and fermentation, parenting, and astrology. Her favourite part of the farm is being outside and barefoot all the time and eating too many veggies... yes seriously that's a thing.

Areas of focus on the Farm: Weed control, Farm store, Farm beautification and visual arts, Primary Caretaker for Milo, Queen of Observation, Feedback, and Systems Improvement.
Born on the farm (literally...home birth by the wood stove a the old farm in Dunham), Milo's favourite part of being a farmer is having endless opportunities to learn and to try out a myriad of building and engineering projects. Current projects include a tree house, a 75 ft water slide, and a log cabin built with no screws, nails, twine, etc. Milo loves climbing trees, playing the recorder, reading, electronics, electronic music. Milo regularly gets to work and learn from the various tradesmen who come to the farm, who report that he's as competent as the average 19 year old intern.

Areas of focus on the Farm: The Authentic Farm Boy, Chief Homeschooler, Head of electronics, Tine-Weeder Operator, Lead Tree House Builder, Avid Learner, and General Lover of Life.
Born in Geneva Switzerland, Jonathan spent his youth travelling around the Middle East and the Eastern US. Jonathan is motivated by a love of action and tangible results and a desire to play a role in crafting the society in which we live. The best part about being a farmer is the ability to use both physical and mental skills in the process of bringing about entrepreneurial dreams and visions. Jonathan's other interests include spirituality, yoga, meditation, Contact Improv and Ecstatic dance, acroyoga, martial arts, climbing, reading, and playing the harmonica. Jonathan also loves working with 1 or 2 farm consulting clients per year as a source of inspiration and mental stimulation.

Areas of focus on the Farm: Head project manager, workflow planning and team coordination, Crop and Fertilization Planning, Training and HR, Marketing and financial management, Visioning and goal setting.