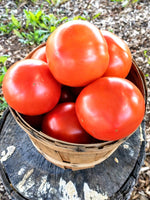 The tomato plants have been loving this mix of hot and rainy weather and are blessing us with ripe, red tomatoes earlier than ever!
From sweet little cherry tomatoes, to big juicy slicer tomatoes, all of our plants are ahead of our expectations and tasting delicious!
The time has arrived to start thinking about preserving the harvest for winter enjoyment. Freezing, dehydrating, canning - our tomatoes are amazing no matter how you process them!
When you order canning tomatoes from Ottawa Farm Fresh you can be assured that you are getting the very best. We choose our tomato varieties carefully, always looking first for flavour, and then harvesting at just the right time to make sure you always get the delicious, sun-ripened taste you are looking for!
Paste Tomatoes Vs. Round Tomatoes
In a tomato head to head we're always going to choose round tomatoes.
They are juicy, filled with flavour, have thinner skin so don't need to be peeled before canning, and can be enjoyed fresh as well as canned.
That being said, we understand completely the appeal of plum tomatoes for canning. They are a meatier tomato with fewer seeds so you get a thicker sauce without needing to boil it down. If you are planning to can your tomatoes whole then paste tomatoes are definitely the way to go! A couple of the drawbacks of plum tomatoes are that their thicker skin means they need to be peeled before processing, and they aren't particularly nice for fresh eating.
No matter which tomato you go with, we can promise they will be the most delicious ones you've ever eaten!