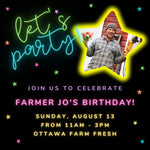 Join us for a day of celebration and fun, marking another twirl around the sun for Farmer Jo!
Farmer Jo's Birthday Bash
When: Sunday, August 13 from 11am-3pm
Where: Ottawa Farm Fresh event tent
Party Schedule:
11 am arrival
11:30-12:30 acroyoga intro class.
12:30 lighting the fire
1 pm grilling and musical jam and what ever people want
2 pm or 2:30 heading down to the Pond to swim
RSVP
so that we know how many wonderful folks to expect!
Please note: We ask that any children attending are supervised by their parents/caregivers. Always remember that our home is also a working Farm. Do not enter any of the tunnels, the greenhouse, and please stay on the grass trails (ie. not in the veggie beds).