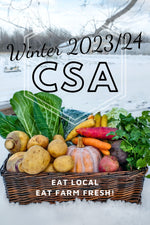 Winter is coming!
It's a few months off but we're already looking forward to the crisp days, cozy nights, and a kitchen filled with comforting local food.

Yes, you read that right - local food in Ottawa all winter long!

In the heady days of summer it's hard to think about the cool days ahead, but here at the Farm we need to start planning and planting now. We're filling the fields, greenhouse, and cold room with local goodies to carry your local food journey right up to the spring!
Local veggies from November to May

"Oh no, I don't want to go back to the grocery store!" It's a refrain we hear every fall from CSA members.
Well, you asked and we listened! This year our Winter CSA is going longer than ever. We've made the investments in infrastructure necessary to make it happen. A larger cold room, a heated pick up area, and expanded crop plantings are all coming together to make the 2023/24 Winter CSA longer than ever.

We're closing the circle and helping you eat local longer than ever!
So, how does the Winter CSA work?

The full Winter CSA will run from November 16, 2023 to May 31, 2024 with a 9 week break over January and February.

Dates:
20 weeks
Fall & Winter period: November 16 to December 22, 2023
9 week break over January & February while your Farmers recharge!
Deep Winter & Spring period: February 29, 2024 - May 31, 2024
2024 Summer CSA begins June 6, 2024

Pick up times:
Thursday 1pm-7pm
Friday 11am-5pm

The Winter CSA has all the flexibility that you know and love about the Summer CSA - flexible choices, flexible sizes, flexible pick up times, flexible holiday schedule, and flexible payments.
We believe that great food should be as accessible as possible to as many people as possible, and this flexibility allows us to share food with as many folks as possible, and what a joy that is!
What can you expect to find in your Winter CSA?

The veggies you'll find in your Winter CSA will change as the season progresses.

Early on your basket might not differ greatly from summer options, depending on how mother nature treats us, then slowly shifting towards more comforting winter fare, such as roots and hearty greens. As the seasons transition and we move into early spring you can expect more frost kissed greens as the earth begins to burst back into life!

This is what eating local year round looks like - a menu that slowly shifts and provides us with just what our body wants and needs every step of the way.

Roots (carrots, beets, daikon radish, potatoes, garlic)
Cabbage/squash/celeriac/celery/sweet potaotes/parsnips/celery root
Large greens (kale/chard/lettuce/raddichio/herb)
Cut greens (arugula/spinach/baby kale/mesclun mix)
Microgreens
Surprise items (canned goods/herbal teas/bulk foods/lacto-ferments/etc.)