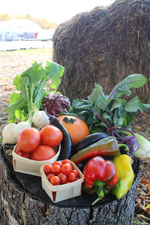 Autumn sights and smells have begun and nature is blessing us with such abundance!

We've been seeding greens for fall and winter baskets, harvesting mountains of luscious summer tomatoes and peppers, and working to store the roots and shoots that will fill Winter CSA baskets all through the snowy winter.
Fall is the perfect time to register for CSA and enjoy the delicious variety of vegetables that are bursting from the fields.

With each box you get the best of both seasons - from late summer tomatoes, peppers and zucchinis, to winter warmers like potatoes, squash and garlic. Plus, you can save 10% when you register today! Enjoy the bounty of the season and restock your kitchen with the freshest and most flavorful veggies around.
What Makes the Fall & Winter CSA So Great?
You Get Exclusive Access to Ottawa Farm Fresh
If you have been enjoying Farm Fresh veggies through the summer by regularly visiting the Farm Store, keep in mind that over the winter period the bounty is only available to members. Winter plantings and harvests have to be planned and executed with precision so we don't have the abundance to offer beyond our CSA and Farm Market Members. If you would like to keep eating Farm Fresh, the Fall and Winter CSA is the way to go!
You'll Keep Eating Local All Winter Long
If you go into a grocery store even now you will find that the greens on the shelves are imported. Not only does this increase the carbon footprint, they are also not as fresh, and most importantly, are nowhere near as delicious! While growing greens in the winter requires a little more care than in the summer, nature rewards us for that extra effort by producing the sweetest leaves of the season. A touch of frost develops the natural sugars within the plant, which acts as a natural antifreeze, and also makes them super delicious! We know that you value the quality and flavour of Ottawa Farm Fresh veggies, so let's keep your taste buds happy all the way through winter!
Want to know how we can keep growing food while it's snowing outside? Find out
here
.
You Are Supporting Regenerative Agricultural Practices
The earth beneath our feet is so much more than dirt - it's a whole world of organisms all working together in a symbiotic relationship that is fundamental to the functioning of our world. Supporting the health of the soil and environment is fundamental to our farming practice. As farmers we are not trying to dominate the natural world, but to work with it in a reciprocal relationship in which we all flourish - we feed the soil, and in return it feeds us.