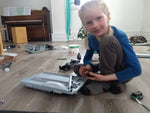 Are you passionate about sharing your love of math and engineering with the next generation?
Are you an excellent beginners math tutor who is also an Arduino Whiz?
Are you great at seeing the math and science learning opportunity behind every project?
Are you a semi-"retired" jack of all trades, handy man, or tradesman who loves teaching?
You and Milo are gonna have so much fun!
---
Milo is a 10 year old on-farm home schooled dude with 1000 projects on the go. From a tree house to a water slide, photovoltaic systems to woodworking, electronics, and Arduino… Milo just loves building stuff.

Milo is competent with most hand and power tools including metal cutting tools, mildly competent with soldering, and beginning to explore metal work and welding (we have a forge and a welder)... ahh the benefits of farm schooling! Also competent with 65 HP tractor, Compact Track loader, and 5T excavator. Milo's fully bilingual (French-English). Milo's also interested in learning Arduino and Spanish.
Your job will consist of 1-2 hrs of math tutoring followed by 1-2 hrs of project work. Depending on your skills and interests, this could include: Building projects, machinery maintenance, Arduino projects and programming, electronics, welding, wood working etc. You mission will be to weave the math lessons into your project work and illustrate the practical applications of what you are studying in math.
Our ideal would be for bilingual sessions.
If you speak Spanish, we would expect you to communicate in Spanish 30-50% of the time. If you speak Mandarin (or any other language), we expect you to start introducing Milo to some simple words, math language, and getting him used to the sounds.
You must have a car to drive to the farm (10 minutes from the UOttawa STEM building)
1-3 sessions per week. 3-4 hrs per session.
$20/hr plus a weekly CSA veggie basket from our farm.
Send us an email with a letter of motivation and CV. Let us know why you would be perfect and make mention of specific personal projects you've undertaken. otttawafarmfresh@gmail.com