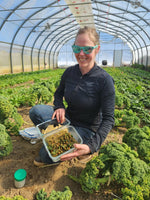 As the summer holidays draw to a close and the kids head back to school, our minds turn towards packing lunch boxes and quick dinner prep.
While back to school might mark the beginning of autumn for many, now is the time of summer abundance from the Farm fields, which can make your meal planning both simple and delicious! The Farm Store is bursting with delicious, fresh ingredients and with a few tips and tricks from Jolianne, our resident cooking ninja, you will slide into September stress-free and enjoying delicious Farm Fresh eats!

Joli's Kitchen Tips for a Smooth Back to School Season
It Starts at the Farm Store: When you come to pick up your weekly groceries come prepared with bags and containers. Putting everything away is quick and easy when you get home if everything is already bagged up. Almost all veggies need to be stored in plastic bags or containers in order to be kept fresh, and we suggest removing elastics before storage.
Ingredient Prep Vs. Meal Plan: If you love a meal plan, we salute you! If this isn't a technique that works for you, consider ingredient prep rather than a full meal plan. After you get back from the Farm, be super efficient and start prepping your veggies for the week right away. Steam your broccoli, roast your peppers, zucchinis, onions, beets, and carrots, and massage kale for a quick salad later. Even something as simple as taking the elastics off before storing, and cutting the base off of celery so you can grab one stalk can make cooking so much easier! An hour of ingredient prep will make weeknight meals super simple to cook and clean up after.
Batch It: Have you ever noticed that it takes the same amount of time and effort to make a double batch of pasta sauce? Take a bit of time at the beginning of the week to think of base sauces or prepped ingredients that you can use in multiple ways. Tomato sauce tops pasta, fills zucchini boats with added protein, and gets layered with grilled veggies for a simple weeknight lasagne. Roasted mixed veggies can top salads, be added to wraps, or become a delicious frittata just with the addition of eggs. Make a big batch of fresh pesto and freeze it in portions to make delicious summery pasta in the depths of winter (hot tip: try melting some blue cheese in!)

Optimise Oven Use: If the oven is on you might as well fill it! Take those prepped veggies and see if there are a few meals or snacks you can make at once. Roast some tofu, make a batch of zucchini muffins, or roast some beets to make into a quick soup.
Keep It Simple: With ingredients this delicious meals don't need to be complicated! One of our favourite quick dinners is shredded cabbage and onions cooked in a frying pan with sausages. Simple, delicious, and easy to customise to anyone's taste. Save the complicated dishes for the days you have more time, and give yourself the grace to eat simple dishes on busy days. Remember, a plate filled with veggie sticks, some sliced cheese, and hummus is just as nourishing as a dinner that took hours to prepare!
Take inspiration from some of our favourite simple recipe ideas;
Sauteed Bok Choi & Sugar Drops
Kielbasa and Cabbage Skillet
Miso Grilled Eggplant
Milo's Lunchbox Macaroni Salad

Food should be fun and one of our goals is to help you love veggies more than you ever thought possible! We hope that by sharing some of the prep and cooking tricks that we've learned over our decades of farming that your transition from summer to autumn will keep you stress-free and loving that Farm Fresh flavour!