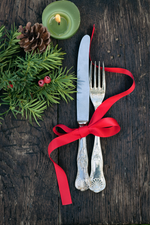 Are you a holiday traditionalist, making the same classic family dishes year after year, or do you like to keep things fresh with new and exciting flavours? No matter your disposition, Jolianne is here to bring some Farm Fresh goodness to your holiday meals - whether that's with a fresh take on a holiday classic or something you've never tried before.
Squash Lava Cake:
Oh you are in for a treat! This chocolate butternut squash lava cake is a favourite in our house, holidays or not! It might sound a little strange at first, but the butternut squash helps to give the cake a lovely creamy texture and fills it with fiber, potassium and vitamin C.
Creamy Kale & Celeriac Side Dish:
Creamy greens and sweet roasted celeriac make a perfect side dish for roasted meat of any kind. We love kale in our house and we are on a mission to show you just how versatile it is!
Colourful Root Veg Mash (aka. Clapshot):
In our kitchen we are all in for more colours and new flavors. We suggest you try this take on potato mash, where we incorporate carrots and rutabaga. The sweetness of the two orange veg makes the mash more interesting, and if you are feeling extra crazy try adding some lightly steamed chopped kale as well!
Nut Loaf:
Delight the vegetarians at your festive table with this British classic - nut roast! There are a few steps involved in the preparation of this recipe, but it is filled with great Farm Fresh veggies and the filling can be made ahead of time and frozen to make assembly a bit easier on the day.