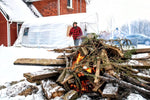 Today marks the longest night of the year

The sun will set at 4:23pm tonight, plunging us into darkness for about fifteen hours until the sun rises tomorrow morning at 7:40am. The modern world would have us believe that this time of darkness is something to be loathed - the bleak midwinter - a time filled with nothing but cold and darkness. A time to be endured, not celebrated.
In a world where the schedule of our lives changes little with the rhythm of the seasons, these short days and long nights can be challenging. We are given little opportunity to slow down, to turn inside, to hibernate in the warmth of our homes and families. One of the blessings of farming is the opportunity to move according to the seasons. We live long and energetic days under the warm summer sun, and slow down and turn towards more introspective tasks when the sun becomes lower in the sky.
Today we encourage you to take some time to acknowledge the change of the season. Light up the darkness with candles, give gratitude for the year that has passed, and set some fresh intentions to move you from the darkness and into the light. Why not try this lovely
Winter Solstice Restorative Yoga practice
?
At tomorrow's CSA pick up we will honour the darkness with a bonfire, a tradition that has been practiced on the winter solstice for centuries. We encourage you to come and gather around the flames and to find light and warmth with this Farm community.