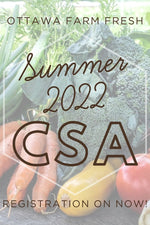 Did you know that by January 12th the majority of people have abandoned their new year's resolution?
As the new year dawns so many of us begin with great intentions, but only two weeks in we abandoned the resolve and fall back into old habits. Don't feel bad, the reality is that most of us don't really set ourselves up for success. We talk a big talk (far too big in most cases), but fail to put in place the necessary supports and incentives to keep ourselves on the right track.
Make 2022 Your Most Vegful Year Ever!
Ottawa Farm Fresh are here to help you on the path to new year's resolution success! Whether your resolution is to eat more vegetables, be more eco-conscious, support the local economy, or connect to the local community, we're here to keep you on track for months to come! By joining our Summer Abundance CSA you are setting yourself up for resolution success right through the summer and well into the fall.
How Is Our Summer CSA Your Key to Success?
Consistency & Accountability: Unlike a gym membership, once you register we're expecting to see you week after week. When you register now, even in the depths of winter, we start planting the seeds to grow those summer veggies for you. Once we begin to harvest those veggies they will be waiting for you at the Farm, and our newsletter will be reminding you of that fact every week. Unlike a gym, we'll be holding you accountable for that commitment you made way back in January.
Quality: If your goal is to encourage yourself and your family to eat more vegetables, then you might as well set yourself up for success by filling your fridge with the tastiest vegetables possible! The quality and flavour of our veggies are guaranteed to get your whole family bonkers for vegetables - it's something we hear from members over and over again. Eating well has never tasted so good!
Support: One of the best parts of CSA membership is the exposure to new and exciting vegetables. This can be intimidating for some people, who worry that food might go to waste because they don't know how to prepare them properly. Worry not, we are here for you every step of the way!
We provide recipes every week featuring the vegetables you'll find in your basket. We also have a curated collection of recipes on our website, all of which feature the best of Ottawa Farm Fresh produce.


We run regular workshops and events at the Farm that will help you learn more about how, what, and why we grow, how to preserve the bounty for use later in the year, and to support you on your wellness journey.


Our Farm Store staff are friendly and knowledgeable, and always happy to answer any questions you may have. We are all passionate about bringing amazing organic produce to the community, and sharing our favourite cooking tips and tricks is an integral part of that calling.
What Our Members Have To Say!
"I have to tell you how much we love our CSA box. It has significantly increased our vegetable consumption and my husband has lost 20lbs. I love the concept of being able to substitute items. Rarely anything ever goes to waste. And your veggies keep in the fridge for a very long time when properly wrapped. Most of the time when I pick up, Kayla is in the store. She is awesome! Super friendly and knowledgeable."
- 2021 CSA member
"Perfect for families! I got my first box this week and the quality and freshness is amazing. I also brought my 6-year-old son with me to collect our box and it was an excellent lesson in food. We got to walk the ground and see how vegetables are grown, the effort required to farm (i.e. don't waste your food), and the beauty of nature. Highly highly recommend!"
-Kristine, 2021 CSA member
"We have been so impressed with this entire operation - the veggies are so fresh and of great quality and variety, the CSA membership is super flexible, and the staff are warm, welcoming and helpful. We are also really enjoying the Instagram recipe suggestions - such a great perk to offer to customers! They have really thought of every part of the customer experience, and they've nailed it! Just a totally positive experience all around. Thanks to everyone at Ottawa Farm Fresh, you are doing a terrific job!"
-Lyndsey, 2021 CSA member
"Farmer Joe, family and staff are truly amazing! We purchased the Spring/Summer basket in 2021, which was our introduction to Ottawa Farm Fresh. We have never had or enjoyed such a wide variety of beautiful flavourful vegetables. And as a bonus the sharing of recipes and videos from Farmer Joe with his extensive and very enthusiastic knowledge of farming. What a true pleasure it was to be part of their journey...can't wait for the Spring!"
- Jeanine, 2021 CSA member
Are You Ready To Do It?
To let us help you meet those goals, and eat delicious vegetables all summer long to boot? With ever rising food prices and supply chain issues causing shortages at grocery stores across the country, Ottawa Farm Fresh is here to put your mind at ease. Stop worrying about what your grocery budget is going to look five months from now. Register today and you're set for months to come!