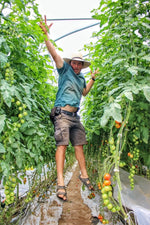 CSA, or community supported agriculture, is a program that has existed in various shapes and forms for decades. The term CSA may have been coined in the US in the 1980s, but alternative agricultural distribution systems like this have existed in various forms around the world since at least the 1960s. We all have the pioneers of Teikei in Japan, Solidarische Landwirtschaft ("Solidarity farming") in Germany and Austria, and the clientele membership clubs of rural Alabama, to thank for laying the groundwork for Farms like ours. We recognise that today Ottawa Farm Fresh stands on the shoulders of giants! These food revolutionaries are our inspiration, and in their same spirit of invention we continue to revolutionise the model that they designed so many years ago.
Let us introduce you to CSA 2.0!
CSA is so much more than an acronym
Three letters cannot encapsulate all that our vegetable baskets are, and the life-changing experience they offer to members. When you register for our CSA you aren't simply signing up for a weekly basket of vegetables. You are registering for an innovative local food experience that connects you with the people and places that grow your food, and, most importantly, filling your belly with the most delicious veggies you've ever tasted! 
Our CSA is revolutionary
We've made CSA both simple and convenient so that you can stop worrying about providing great nutritious food for yourself and your family, and start loving vegetables like never before!
At Ottawa Farm Fresh you get to;
* Pick the size of basket that best suits your life (4 sizes)
* Pick the number of holiday weeks that best suits your schedule (unlimited)
* Pick the vegetables that fill your basket week after week (don't like it, don't take it!)
* Pick the time that you come and get your basket (Farm pick up Thursday to Saturday)
Innovation is the name of the game at Ottawa Farm Fresh
We are passionate about bringing great local, organic food to everyone who comes to the Farm. We grow much of the produce that you find at the Farm Store, but our multi-farm food hub means that we are offering you an unparalleled selection of fruits and vegetables week after week, all season long. At Ottawa Farm Fresh we are bringing you the best of the best from throughout the Ottawa-Gatineau region.
"The flexibility is unparalleled"
"We've tried a few different CSAs over the last couple of years. The only one we returned to is Ottawa Farm Fresh. It's a super convenient location, the produce is fresh and organic, the staff and ownership is great, and the flexibility is unparalleled. Everything is flexible - from box size, to number of weeks, to what day you pickup, to vacation days, to what goes in the box each week. We pre-purchased for the entire 2022 by the end of autumn 2021, without hesitation."
- Chris, 2021 CSA member
Be A Revolutionary
Let's work together to make 2022 your most veggie-filled year ever! Register for CSA today!