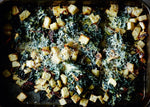 Creamy greens and sweet roasted celeriac make a perfect side dish for roasted meat of any kind. We love kale in our house and we are on a mission to show you just how versatile it is!
Creamy Kale and Celeriac
1 celeriac 
1 red onion, sliced 
1 clove of garlic, thickly sliced 
3 sprigs of thyme 
1 T olive oil 
250 g kale 
4 T creme fraiche (sour cream and yogurt are good subs)
1 t mustard 
20 g parmesan or any cheese you have on hand
-
Remove skin from celeriac and chop into bite size chunks. Mix together with red onion, garlic, thyme, olive oil, salt and pepper and roast for 40 min at 375.

Tear the kale from the stalks and drop them into a large pan of salted, boiling water, cooking for about 3 mins or until slightly wilted.

Drain, reserving the cooking water. Roughly chop the kale and add it back to the warm pan.

Mix together the creme fraiche, mustard, half the cheese, and season with salt and pepper. Add 2-3 T of the kale water to loosen it. Add to wilted kale.

Add the kale mixture to the roasting pan with the celeriac. Stir, sprinkle with remaining cheese, a drizzle of olive oil and roast for 5 more minutes!