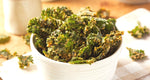 We love adding kale chips on top of a hearty soup, like a cream of parsnip or squash soup, or even on top of Shepherd's Pie or Mac & Cheese! They add a great little crunch, as well as some added nutrition.

Farm Fresh Kale Chips
1 bunch kale*
I love to add other finely sliced veggies: onions, celery, parsley, fennel...
     -
Remove the kale leaves from the stem and rip into chip size pieces. 
     -
2 T tamari
2 T maple syrup
Dash apple cider vinegar
1 t smoked paprika or nutritional yeast
1 t oil
     -
Preheat oven to 300f.

Mix the kale pieces and dressing ingredients together in a large bowl and then massage the kale well by hand for a minute or so.

Spread pieces in a single layer on a baking sheet. Bake in the oven for 10min, or until crispy.