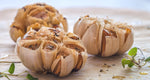 This week we bring you roasted garlic everything! Roasting garlic is super simple, and leaves you with a silky smooth sweet garlic paste that enhances any dish.

How To Roast Garlic

Preheat oven to 400F. Peel off some of the paper but leave most of the head intact. Trim ¼ inch off the head to expose the garlic cloves. Drizzle with a tsp of olive oil & place in an ovenproof dish with a lid (or wrap in foil) and bake for 40-70 minutes until garlic cloves are completely soft. When cooled, squeeze roasted garlic out from the bottom of the head. Alternatively, throw a few cloves onto a baking sheet & bake in the oven.

Roasted Garlic Recipe Ideas

Roasted Garlic Hummus: Add 1-2 heads of roasted garlic to your favourite hummus recipe or follow our recipe. Despite being a lot of garlic, roasting it actually mellows out the strong garlic taste. More garlic taste; less garlic breath! Want to throw even more colour, flavour and nutrients in here? Blend in 1-2 steamed or roasted, peeled beets.

Roasted Garlic and Herb Spread: Use this spread to make garlic bread or as a rub on meat, potatoes or even roasted cabbage! Simply mash or blend 1 head roasted garlic to ½ cup butter and season with salt, rosemary, thyme, parsley, or whatever herbs you have on hand.

Roasted Garlic Alfredo Sauce (Made with Cauliflower!): We all thought alfredo sauce couldn't get any better until roasted garlic came around. Serve on your favourite noodles or spiralized root veg.

Roasted Garlic and Rosemary Focaccia Bread: A whole head of roasted garlic smeared over airy and decadent focaccia, sprinkled generously with salt, fresh rosemary, and a drizzle of olive oil. What more could you want!

Roasted Garlic Dressing: Roasted garlic blended with honey, apple cider vinegar, and olive oil for a healthy and delicious punch to add to your next kale salad. Or, use this on top of shawarma-spiced meat or falafel on a pita with all your favourite toppings. Delish!
More roasted garlic recipe ideas: