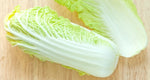 It's hard to come up with a consistent recipe for this salad because I usually just go with what inspires me in the moment. Trust your culinary self & just go for it! I like to prepare this salad in advance & let it marinate for a couple of hours. The other day I left the marinated salad on the table and sure enough Milo grabbed the bowl & gabbled the whole thing up!

Joli's Chinese Cabbage Winter Salad
1 head very finely chopped chinese cabbage*
Microgreens*
Spinach*
Finely chopped onions*

Dressing
½ c yogurt
1 T curry powder
1 T miso paste
1 T maple syrup or omit and add raisins to the salad
salt & pepper, to taste
  -
Mix all prepared vegetables together in a large bowl.
Combine dressing ingredients in a small bowl and whisk together well. Pour dressing over salad and leave to marinate for at least an hour before serving.

Farm Fresh Tip: This dressing also makes a great dip for parsnip fries!