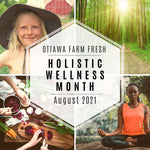 Rejuvenate & Revitalise Yourself at the Farm During August Wellness Month!
Connect with Nature
Deepen your self-care practices
Learn, explore, and discover!
---
We think the Farm provides the perfect safe place for our community to explore and grow in mind, body, and spirit, where we also everyday care for and nurture the soil, plants, and the earth.  Combining an exciting line-up of wellness professionals with the innate revitalizing power of nature, we've got something for people of all ages.
Throughout the month of August we will have a calendar full of events designed to nurture your joyous spirit, whatever it is that cultivates that sense of joy for you! There will be something for everyone, adults and children alike - dance and movement, cooking, meditation, yoga, wild foraging, forest walks, reiki & reflexology, meditative drumming, and so much more.
Farmer Jo and Farmer Jo have curated this mix of workshops to offer a wide diversity of perspectives and experiences. All of the modalities we will be featuring during Holistic Wellness Month aren't necessarily ones we personally practice, but we do believe that there is something of value to be learned from studying a wide diversity of practice and taking what is useful to you.
Sunday, August 1
Try our regular outdoor yoga class held under the sun in the Farm fields for
FREE
for the month of August. Join Elycia for an
 all levels class with lots of modifications and a chance to challenge yourself.
10am-11am
---
Week 1 - August 5th-8th
Here at the Farm we are intimately connected to the rhythm of the natural world - growing, eating, and working based on the rhythms of the seasons. Over the course of the year our lives ebb and flow based on changes to the natural world - quiet and contemplative over the winter, ramping up as the sun levels increase through the spring, reaching a crescendo with the long, warm days of summer, and slowly winding down again as the days shorten and temperatures drop in the autumn. The modern world has allowed many of us to, in large part, disconnect from these natural rhythms, with little change to our schedules through the course of the year. Week one of Holistic Wellness month at the Farm will encourage you to reconnect with these natural rhythms - through food, music, and nature.
 Thursday, August 5
Sourdough Pizza Making and Dinner at the Farm with Elle Chef
Join Elle Crevits of the Elle Chef to reconnect to the rhythms of the season with a cooking workshop that will focus on fresh, seasonal ingredients plucked straight from the Farm fields.
Saturday, August 7
Musical Meditation with Mary Howells
Join Mary Howells (Farmer Jo's Mom!) in a musical meditation workshop that will connect you to your inner rhythm. Mary will be leading two group sessions, one for children and one for adults, both of which are an experience of mindfulness and sharing through the exploration of sounds and rhythms using a variety of percussion instruments. No musical experience is necessary!
Music Exploration Workshop for Children from 10am-11am
Music Meditation Workshop for Adults from 3pm-5pm
Sunday, August 8
Farm Fresh Yoga with Elycia Kellett
Try our regular outdoor yoga class held under the sun in the Farm fields for FREE for the month of August. Join Elycia for an all levels class with lots of modifications and a chance to challenge yourself.
10am-11am
---
Week 2 - August 12-15
Do you ever feel like you are lacking energy? Like your 'get up and go' has taken a long, unscheduled holiday? On week two of Holistic Wellness month at the Farm we're endeavouring to get the energy flowing, harnessing both your internal energy, and the energy that flows through the universe.
Saturday, August 14
Hair Braiding Booth with Natural Hair by Erin

"
Natural hair by Erin
" the herbal hairstylist is always looking at ways to connect beauty and nature. Working as a mobile hair stylist and focusing on natural beauty.
Erin has a love for braiding and wants to share that love with you. 
Offering "braids by donation" fundraising for the new barn at Ottawa Farm Fresh!
Appointments will be 5-10 minutes depending on the braid!
First come, first served
10:30am-1pm 
Saturday & Sunday, August 14 & 15
Reiki & Reflexology with Chantal Dumont
Chantal Dumont is a holistic esthetician, reiki master, and reflexologist, who helps clients tune into their own energetic gifts and connect with their own intuitive powers.
Chantal will be at the Farm on August 14th and 15th offering 30 minute taster Reiki, Reflexology, and Chakra treatments (by appointment), as well as leading a workshop on Saturday morning called "Spiritual Self Care" which will include a guided meditation and group reiki healing session. Chantal will also be sharing some reflexology pressure points for stress relief - and who couldn't use that?!
Various appointments, click to contact Chantal directly
Spiritual Self Care Workshop Saturday, August 14 at 11am-12pm
Saturday & Sunday, August 14 & 15 
Inner Fire Dance & Movement with Mel Sirois
There are few better ways to connect with your inner energy than through dance and movement. Mel Sirois, a Certified Movement Analyst, dancer, and actor, is coming to the Farm straight from Montreal to help you use movement to let go, find your own expression, and, most importantly, have fun! Lots of fun!
Mel will be at the Farm for three workshops over the weekend and there's something for everyone - kids, the movement curious, and those looking to just let go!
Inner Fire Dance - Saturday, August 14 at 5pm-7pm
Little Garden Creatures - Sunday, August 15 at 11:15am-12pm
Sunday, August 15

Farm Fresh Yoga with Elycia Kellett
Try our regular outdoor yoga class held under the sun in the Farm fields for FREE for the month of August. Join Elycia for an all levels class with lots of modifications and a chance to challenge yourself.
10am-11am
---
Week 3 - August 19th - 22nd

 Thursday, August 19
Wild Foraging Walk: Local Medicinal and Edible Plants
Join naturalist Nikki Satira, the Executive Director of Earth Path forest school, for a meander through the Farm property to identify and learn more about local plants for both medicinal and culinary purposes. Nikki has extensive experience and training in the realm of nature connection and education and is currently training to become a clinical herbalist. Her knowledge of the local flora and fauna is extensive and she delights in exposing people to the delight of nature's larder.
5:30pm-6:30pm
Saturday, August 21
Farmer to Garden Seminar: Growing Great Fall Greens
Farmer Jo wants to take your late season gardening to the next level with a discussion of succession planting and an introduction to some of the greens that just love the cooler weather that will soon be arriving.
Farmer Jo will also be taking a selection of general gardening questions in advance and then you will travel with him through the Farm to discover the answers. Send your questions to info@ottawafarmfresh.com in advance and Farmer Jo will endeavour to answer as many as possible.
1:30pm-3pm
Sunday, August 22

Yoga Pilates Fusion Flow with Val Simoncic
Join guest instructor Val Simoncic for a FREE Yoga Fusion practice where we will blend Yoga Asana, Pilates concepts and maybe even a few HIIT intervals on the mat! During this class you can expect traditional yoga postures, some Pilates inspired core sequences and a few higher intensity intervals to get the heart rate going. All set to music to inspire and motivate you, this class is truly meant to get us out of our heads and into our bodies. This is an all levels class with plenty of opportunities to modify movements and sequences to make the practice unique for you! All that is needed for the practice is your mat, your water, and some sun protection! Additional props are optional but not necessary for practice. See you on the mat!
As a yoga teacher, Valerie seeks to provide a down-to-earth and accessible approach to the practice. She takes pride in creating fun and energizing playlists and sequences while holding a space where students can safely challenge their bodies and relax their minds.
10am-11am
Regenerative Health: Linking Environmental, Human, and Gut Health
Food is medicine. It has the power to heal at so many levels. But not all foods are equal! This workshop will discuss the importance of picking the right food for your body, how nutrient density is critical, and how sourcing your ingredients consciously is a game-changer. But while food is essential, it is not all. We will talk about primary and secondary foods and how connecting to Nature is the missing link. Finally, we will talk about what's at the center of it all: your gut health, soil health and how we are what we absorb and convert!
This workshop will be presented by Joanna Heyes, a Registered Health Coach, Functional Medicine & Integrative Nutritionist, Yoga Teacher, and sustainability expert. Joanna dedicates her life to healing people and the world, one bite at a time.
11:15am-12:15pm
---
Week 4 - August 26-29
Saturday, August 28
Ottawa Farm Fresh Farm CSA Member Open House

As CSA members you are so important to the Farm. You give us the stability and support we need to be able to grow from season to season, literally and figuratively! For this we want to extend our heartfelt gratitude and thank you in the best way we know how - with a Farm party! Ottawa Farm Fresh wouldn't be what it is today without the commitment and support of you, the CSA members, and we really want to get to know you better!
On Saturday August 28th we would like to invite you to the Farm to meet your Farmers in person, have a tour around the fields, and to just connect with the Ottawa Farm Fresh land and community. Bring your family, pack a picnic, and spend the day enjoying your Farm community.
10am
Saturday, August 28
Intro to Growing and Canning Tomatoes with Farmer Jo
Do you have an interest in preserving your own food but you aren't sure where to start? Join Farmer Jo for this truly unique Farm experience, where he will discuss all the steps you need to know to grow, harvest, and preserve your very own tomatoes.
This workshop will start in the fields with a tomato gardening tutorial, and then move to the outdoor kitchen where Farmer Jo will share their tried and tested tomato sauce recipe and preserving techniques. Included in the cost of this workshop is a 20lb crate of our very own organic tomatoes, a recipe card, and full canning instructions.
Workshop cost - 65$ per person or pair and includes 20lbs tomatoes. Monthly pass holders get in for only $40!
3pm-5pm
Sunday, August 29

Farm Fresh Yoga with Elycia Kellett
Try our regular outdoor yoga class held under the sun in the Farm fields for FREE for the month of August. Join Elycia for an all levels class with lots of modifications and a chance to challenge yourself.
10am-11am
---
Booking

Booking your spot in one of the workshops couldn't be easier. Just head to the website and purchase a ticket for yur desired event, or treat yourself to a whole month of workshops with a month long pass!