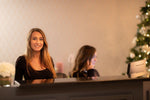 Chantal Dumont will be at the Farm on August 14th and 15th offering 30 minute taster Reiki, Reflexology, and Chakra treatments by appointment, which you can book directly with her by email
or text: 613-859-2859.
The appointments will take place in a screened tent in a private and quiet corner of the Farm - what better way to treat yourself and learn some stress-relief techniques to use in your everyday life?

Chantal will also be leading a workshop called Spiritual Self Care on Saturday, August 14 at 11am-12pm. The workshop will include a guided meditation and group reiki healing session, as well as a tutorial on
reflexology pressure points for stress relief - and who couldn't use that?!
A bit about Chantal Dumont
Chantal Dumont is a holistic esthetician, reiki master, and reflexologist, who helps clients tune into their own energetic gifts and connect with their intuitive powers. You can find her regularly at her spa Chanti Esthetics & Wellness in Russell, ON, where she offers a wide variety of physical and spiritual wellness treatments.