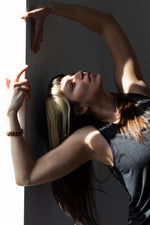 There are few better ways to connect with your inner energy than through dance and movement. Mel Sirois, a Certified Movement Analyst, dancer, and actor, is coming to the Farm straight from Montreal to help you use movement to let go, find your own expression, and, most importantly, have fun! Lots of fun!
Mel will be at the Farm for two workshops over the weekend and there's something for everyone - kids, the movement curious, and those looking to just let go!
Inner Fire Dance - Saturday, August 14 at 5pm-7pm
Little Garden Creatures - Sunday, August 15 at 11:15am-12pm
Inner Fire Dance - Saturday, August 14 at 5pm-7pm

Let's dance!
Connect to your inner energy. Bathe in the joy of movement and play. Unleash your inner fire!
The source to our happiness, to our well-being, is found in each step we take towards liberating ourselves. Inner Fire Dance is an invitation for you to listen to your body, allowing it to express, release, unfold, shake off, move, shift, connect, give and receive. Your environment becomes a new playground to express yourself fully in surprising ways. 
Mel Sirois will guide you to explore new ways of moving, accessible to all, so that everyone can "dance their own dance". Her guidance creates a non-judgemental space where you can experience true freedom in your body and expression, while connecting to the pleasure of dancing. Rekindle the joy of being in your body. 
(Also, it's Farmer Jo's birthday, so … party!!)
Inner Fire Dance is a drug and alcohol free environment.
Little Garden Creatures with Mel & Farmer Jo - Sunday, August 15 at 11:15am-12pm

Give your child the gift of discovering the joys of the garden through the eyes of their favourite garden creature.
In this workshop co-facilitated by Mel Sirois and Farmer Jo, we'll embark on an exploration of the veggie fields through movement, dance, and taste.
Your child will be introduced to creative movement and dance and delicious organic veggies. They will have an opportunity to jump, shake, spin and wiggle, and harvest a few veggies, all while using their imagination! A great activity to inspire, engage and motivate your little ones to be themselves (and fall in love with veggies)
A little bit about Mel Sirois and Inner Fire Dance
Mel Sirois graduated from the
Laban/Bartenieff Institute of Movement Studies
in New York City, thereby accrediting her as a Certified Movement Analyst (CMA).
She has been dancing and acting for over 20 years, and has performed in various theaters and film productions in Montreal and New York City. Mel has also produced, directed, and created 4 full length multidisciplinary shows including her one woman show
"7 The Root Of Self"
which was featured at the Montreal Fringe Festival in 2015.
In the summer of 2020 she co-created and produced her first music and dance festival,
Woodland/Danse Boisée
. She has been invited to facilitate movement experiences in festivals such as
Pied Nu , Camp C.A.M.P (Costa Rica), VivAcroyoga, and Spirit Festival.
Mel has some experience working with individuals with disabilities. In 2019 she was invited to work with
LEGacy Circus
, as a movement specialist, with two circus artists in which one is in a wheelchair.
She has taught in the dance program at
Cégep du Vieux Montréal
and at
the
Dance School of the National University of Costa Rica.
Through her own creation,
Inner Fire Movement
(2017), she offers private sessions and themed workshops in Canada and in the USA.
As a teacher and facilitator Mel has spent thousands of hours helping students and her clients develop body and inner awareness, as well as celebrate their own full self-expression.