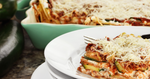 All of the warm deliciousness of traditional lasagna, minus the pasta. This Zucchini Lasagna is the perfect dish to spend some time crafting on a chilly autumn day.
Zucchini Lasagna

1 lb 93% lean ground beef
1 1/2 teaspoons kosher salt
1/2 large onion, chopped
3 cloves garlic, minced
1 28 oz can crushed tomatoes
2 tbsp chopped fresh basil
3 medium, 8 ounces each zucchini, sliced 1/8" thick
1 1/2 cups part-skim ricotta
1/4 cup Parmigiano Reggiano
1 large egg
16 oz 4 cups shredded part-skim mozzarella cheese
    -
In a medium pan, brown meat & season with salt. When cooked, drain to remove excess fat.
Add olive oil to pan & saute garlic & onions, 2 min. Return meat to pan, add tomatoes, basil, salt & pepper. Simmer low for at least 30-40 min, covered until thick.
Slice zucchini into 1/8" thick slices, lightly salt & set aside for 10 min. After 10 min, blot excess moisture with paper towel.
Preheat a grill pan to medium high & grill 2-3 min per side, until lightly browned. Place on paper towels to soak any excess moisture.
Preheat oven to 375°.
In medium bowl mix ricotta, parmesan & egg. Stir well.
In a 9x12 casserole spread 1/2 cup sauce on the bottom & layer zucchini to cover. Spread 1/2 cup of the ricotta cheese mixture, then top with 1 cup of mozzarella cheese. Repeat process until all your ingredients are used up. Top with remaining zucchini & sauce, cover with foil and bake 30 min. Uncover & bake 20 min (to dry up the sauce) then top with remaining 1 cup mozzarella & bake until melted, 10 min.
www.skinnytaste.com/zucchini-lasagna