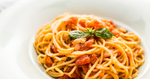 Vegan Creamy Tomato Pasta

1/4 cup olive oil
2 garlic cloves minced
1 tsp oregano
15 oz homemade tomato sauce
1 8 oz can tomato paste
2 cups pasta water
1 Tbsp fresh basil
1/2 cup hummus packaged or pre-made
Pinch of sugar
12 oz pasta of choice
    -
In a large heavy saucepan on medium heat, heat olive oil, then add the minced garlic and oregano. Stir for 2-3 minutes, but do not let the garlic get brown.
Add the diced tomatoes, tomato paste, pasta water, basil, salt and pepper. Cover and cook for 10 minutes.
Uncover and stir in the hummus and add a pinch of sugar. Simmer the sauce for 5 minutes until the hummus becomes well incorporated.
Add more water to adjust the sauce to desired consistency.
Serve with pasta of choice with additional fresh basil as garnish.
-
Note
-
making your own sauce can simply involve blending the tomato in a blender, core removed, or better yet, take cherry tomatoes and just pop them whole in the blender & then simmer on the stove for a couple of hours or in the crock pot. 
feelgoodfoodie.net/recipe/vegan-creamy-tomato-pasta