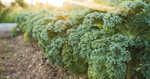 Lentil & Kale Salad
large bunch Tuscan kale (about 10 oz.)
½ C raw almonds
3 green onion
4 garlic cloves
1 lemon
½ C extra-virgin olive oil
1½ C black beluga or French green lentils
1 T cumin seeds
½ t crushed red pepper flakes
5 oz. feta
1 C green olives
    -
Strip leaves off kale stems, chop into bite-size pieces. Transfer to a large bowl, season with salt, & massage until kale is silkier, softer, and darker in color, 1–2 min.
Bring large pot of heavily salted water to a boil over high heat. Add lentils, reduce heat to medium & simmer uncovered until lentils are tender but still al dente, 20–25 min.

Prep the spiced oil: Coarsely chop almonds. Thinly slice white bulbs of green onions & transfer to a small skillet (reserve green tops). Roughly chop garlic, add to pan. Using a vegetable peeler or paring knife, remove three 3" strips of lemon peel, add to skillet. Reserve rest of the lemon for dressing.

Pour extra-virgin olive oil into skillet. Cook, stirring occasionally, until garlic starts to brown & lemon peel curls, about 3 min. Add almonds & cook until almonds are browned, about 3 min. Remove from heat and add cumin seeds & red pepper flakes.
Strain mixture through a fine-mesh sieve into a small bowl, reserve oil. Spread almond mixture on a paper towel-lined plate or baking sheet. Season with salt and let cool.
Add crumbled feta, torn olive pieces, chopped green onion tops, juice of lemon & ½ t salt to bowl with kale.
Drain lentils well & add to bowl with kale; season with salt. Add infused oil and half of nuts and toss to combine. Divide salad among bowls. Garnish with remaining nuts and scallion green.
www.bonappetit.com/recipe/make-ahead-lentil-salad