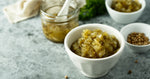 Zucchini Relish

1 1/2 lbs each green & yellow zucchini (7 to 8 C), grated
2 medium red bell peppers, finely chopped
2 1/2 C finely chopped yellow onions, finely chopped
3 T kosher salt
2 C medium or light amber maple syrup
1 1/2 C cider vinegar
3/4 t turmeric powder
1 t ground mustard
1/2 t each fennel seeds & red pepper flakes, lightly crushed
1/4 t nutmeg
1 T cornstarch
    -
In large non-reactive bowl, combine grated zucchini, onions, & chopped peppers. Sprinkle with salt, mix well, & leave in fridge covered for 6 hours or overnight.
In a large colander, drain vegetables thoroughly, squeezing out excess liquid. Rinse to remove saltiness, then drain and press again. Vegetables should be very dry.
In non-reactive pot, combine vegetables with remaining ingredients & bring to boil over high heat. Reduce heat to medium & simmer, stirring occasionally, for about 35 minutes.
While still hot, pour relish into sterilized jars. Wipe rims with wet cloth and seal the jars with lids. Let the relish cool completely. Store the relish in the refrigerator for about two months.
food52.com/recipes/37877-shelburne-farms-maple-zucchini-relish