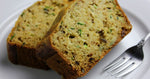 Savoury Zucchini & Olive Bread

1/2 c coconut flour
1/4 c almond meal
1/2 t baking powder
1 t sea salt
2T Herbes de Provence
1T onion flakes
8 eggs
1 t whole grain Dijon mustard
1 medium zucchini, peeled and shredded (about 1 cup)
1 stick organic butter, melted and cooled
1/4 c pitted kalamata olives, chopped
1 t ground pepper
    -
Pre-heat oven to 350 degrees.
In first bowl, stir the dry ingredients: coconut flour, almond meal, salt, pepper, Herbes de Provence, & onion flakes.
In a second bowl, whisk eggs & cooled melted butter.
Once the zucchini is shredded, take a paper towel & "smoosh" out excess moisture.
Mix the dry ingredients, the egg mixture, the zucchini & the remaining ingredients in one bowl. Stir lightly.
Grease two mini loaf pans & distribute mixture between the two loaf pans and cook for 45 min until a butter knife is inserted & comes out clean.
www.cavegirlcuisine.com/recipes/savory-olive-zucchini-loaf