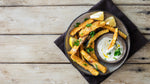 These aren't your standard pub zucchini sticks. No deep frying involved, just delicious fresh zucchini and tasty parmesan cheese. Serve them with the Lemon Parsley Aioli dip, or make a light marinara sauce with Farm Fresh tomatoes!
Zucchini Fries

2 medium zucchini*
1 egg*
1 C grated Parmesan cheese
1 t garlic powder
1 t Italian spice
Lemon Parsley Aioli
1/2 C mayonnaise*
1 lemon, juiced
1 garlic* clove, minced
1 T parsley*, finely chopped
salt and pepper
  -
Preheat oven to 425 degrees and line two baking trays with parchment paper.
Slice zucchini in half, then half again, then into quarters. You should have 16 slices per zucchini.
Crack egg in a small bowl & lightly beat it.
Add the parmesan and spices to a separate bowl, mix.
Dip a slice of zucchini in egg wash, followed by parmesan. Coat the zucchini in the cheese & transfer to baking tray. Repeat.
Bake for 25-30 min, flipping halfway through. Serve immediately.
To make the lemon parsley aioli, add all ingredients to a small bowl and stir together.

Downshiftology: downshiftology.com/recipes/zucchini-fries

foodbymars.com/baked-zucchini-fries-paleo-gluten-free-low-carb/#wprm-recipe-container-7124