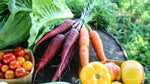 This Carrot Salad is big on colour and flavour, particularly with Farm Fresh rainbow carrots and peppers! It makes a perfect bbq side dish in the summer and keeps in the fridge for a couple of weeks!
Marinated Carrot & Pepper Salad
3 lbs carrots*, peeled and sliced thin
1 medium onion*, sliced into thin rings
1 small pepper*, slivered
10 oz. tomato sauce, 1 T set aside in a small bowl
2 t cornstarch
1 ½ t celery salt
½ C canola oil, can use avocado or olive
1 C white or apple cider vinegar
1 t prepared yellow mustard, can use Dijon
½ C sugar (can use less - like ⅓)
1 t salt
    -
Bring a 4 qt. saucepan of water to boil and cook carrot until softened, approximately 8 minutes. Don't let them get too soft. You want a little crunch.

In a mixing bowl, first mix the 1 T of tomato sauce with the 2 t of cornstarch to make a slurry.
Add the remaining ingredients to the mixing bowl and stir to combine.
Drain carrots and toss with the marinade in the mixing bowl. Cover the bowl tightly and refrigerate a minimum of 4 hours or overnight.
Josie & Nina: josieandnina.com/marinated-carrot-salad