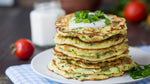 These savoury Carrot and Zucchini pancakes make a perfect light lunch of dinner served with a Farm Fresh green salad.
Carrot Zucchini Pancakes
2 Carrots* (150g), grated
Half onion*, finely chopped
2 Zucchini* (550g), peeled & grated
2 Eggs*
100g Flour
1 ¾ t Baking powder
Salt & pepper
    -
Add grated carrot and chopped onion to a bowl, cover with boiling water and let sit 5min. Drain.
Peel & grate the zucchini on coarse grater, squeeze some of the extra liquid out.

Mix with drained carrots & onions.
Beat 2 eggs until frothy, add salt & pepper to taste. Tip into vegetable mixture & mix gently.

Add flour & baking powder to mixture, stir gently until fully combined being careful not to overmix.
Heat a frying pan over medium heat, add oil. Fry ⅓ cup of mixture until golden brown on underside, flip and finish cooking.

Serve hot, garnished with sour cream and chopped fresh herbs.
lecker zuhause: www.youtube.com/watch?v=zuxHnWagSqg&list=WL&index=58